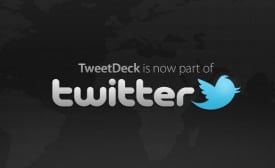 San Francisco-based Twitter has bought TweetDeck, a popular app for managing social networking updates including Twitter, Facebook and Foursquare. Although the financial terms have not been disclosed, it's believed the deal went down for $40-50 million and consisted of a combination of cash and stock.
The transaction didn't come as a surprise. In fact TechCrunch announced earlier in May that it had already happened.
"The mainstream Twitter user-base is well catered for by twitter.com and the official mobile clients. And by becoming part of the official platform, TweetDeck will now fill that role for brands, influencers, the highly active and anyone that just needs "more power"" TweetDeck founder and CEO Iain Dodsworth wrote in a blog post today.
Strange bedfellows
Oddly, the relationship between the two companies has appeared mostly acrimonious, at least from the outside.
Earlier in the year, TweetDeck was blocked from Twitter's interfaces, rendering the software useless. Many believe Twitter was increasingly seeing the third party app as a competitor. If you're looking for a proof point, look no further than the potential for monetizing tweets. TweetDeck, a London-based start-up, had started to experiment with revenue generation.
Could it be that the very company that invented the "Tweet" would be unable to make money from the idea, while it's most influential partner could?
Perhaps, the thinking goes, the deal was a defensive effort to begin to tighten the ecosystem, and begin to capitalize on the revenue potential of 200 million accounts generating over 155  million daily tweets.
UberMedia
Twitter reportedly out-muscled partner/competitor UberMedia who was rumored to also be in acquisition discussions with TweetDeck. The Pasadena-based company is led by Bill Gross, a legendary figure in tech, widely known to have created the business model for Google AdWords. With a stable of mobile apps (TwiDroyd, UberSocial, Echofon), he's rapidly gained market share in the third party Twitter app race.
Seesmic, however, provides almost identical functionality. It will be interesting to see if UberMedia continues to ramp up. Even more curious though will be the unfolding saga of a company (Twitter) that holds the keys to the kingdom and yet is quickly wrestling back control of its previously loose restrictions regarding development. Show me the money…