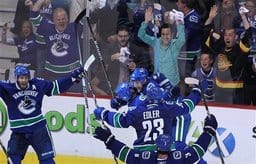 It's all over, but the crying. It only took the Vancouver Canucks five games to send the number two seeded San Jose home thanks to a 3-2 double OT win at home. Sayonara to the 2010/11 playoffs, Sharks fans.
But it didn't come without a monumental fight.
If mathematicians were keeping score, the series would not have ended tonight. San Jose outshot their opponent 52-29, an astonishing differential. And if it weren't for a desperation shot from the point with only fourteen seconds remaining, the series may well have returned to HP Pavilion. None of that matters now though.
That machine-like efficiency the Cancucks are known for produced the first score of the night: H. Sedin, to D. Sedin whose nifty between the legs pass resulted in a sweet goal by Burrows. The real key, however, was their defensive play. Ultimately, Luongo was the difference. The star goalie made one stellar save after another in a successful bid to propel Vancouver to their first Stanley Cup appearance since 1994.
To the Sharks credit they demonstrated grit throughout. The fourth line of McGinn, Desjardins and Mayers was especially effective, if not on the scoreboard at least in terms of possession and physical dominance. Kyle Wellwood had a strong game too. Heatley was, at least on more than one occasion, a serious threat.
In the second period, the team's effort paid off. In a single sequence, Kesler was temporarily injured and Patrick Marleau registered a power-play goal on a tip on a Boyle shot.
On the opposite side, it's worth noting this particular Raffi — the journeyman banging bodies for the Canucks — was just slightly tougher than the Canadian children's singer that penned "Banana Phone." Both involve ringing, that's for sure. Keith Ballard, one of the replacements for injured D-men Erhoff and Rome, was a monumental force, continually knocking Sharks off the puck.
With fourteen seconds to go, Vancouver seriously impeded a San Jose series comeback with yet another clutch goal by Kesler — a candidate for playoff MVP — who tied the game 2-2. Though the Sharks dominated the overtime frames, it was the home team who found a way to win thanks to a strange bounce that lead to an unexpected shot from the point by Bieska that caught Niemi off guard.
Game, set, match.
It's tough to say how this will go down. On the one hand, there is that trade-mark controversy: highly paid San Jose players not performing to expectation when it counts most in the playoffs — just don't look Thornton or Marleau's direction in that critique. But, this is a team that came within three wins of that ever-so-elusive Stanley Cup appearance. And tonight's performance was through-and-through convincing, even if the final result was not.
It's been a great run. Thanks for following, and see you next year.