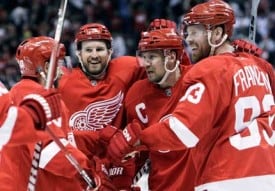 Another one goal game. Check. OT. Check. Sharks win. Uh-oh… almost, but not quite- missed it by this much. With under a minute Marleau almost evened it yet again — for a team that has virtually mastered the comeback –with a shot in close, right in the paint, as he was being cross-checked to the ice. Howard responded, and Detroit hung on for a 4-3 win, in a performance that didn't exactly convince for the Original Six red and white.
But that doesn't really matter.
The first period was all Red Wings. Call it the Bertuzzi show. His Savard-like spin-o-rama and backhand goal from the top of the circle (not exactly something you see every day), resulted in the first goal of the game. He was also instrumental in follow-on goals that quickly resulted in a 3-0 Wings lead.
But then the tide shifted. Near the end of the first. Clowe fed Couture on a bad angle shot, and the Sharks got on the board. At that point the crowd was deflated. The fat lady, however, was not singing. Over the next 58 minutes San Jose chipped away. It was an ideal road game – except, of course, for the result. Then Helm sealed it on a nice pass from Patrick Eaves (having a good playoff).
One wonders: Had Detroit played like it did in the 1st period tonight for the first three games, would the series still favor San Jose?
Still, the Sharks went down swinging, trying as they might to avoid having the series continue at HP Pavilion. It wasn't the convincing kind of Detroit win we saw last year (7-1W in Game 4), but it gives them life. In 2011, we've seen some wild things happen, so the interest barometer on this one just shot up about 10 degrees.
Noted:

Tip for the SJ players and those seemingly slippery sticks: Stickum, baby!

Suggestion for the Detroit D: Might want to check that back-door once and a while for a guy named Boyle.

Parting shot: Clowe's fist work on Abdelkader at the final buzzer.
We head back to SJ for game 5 on Sunday.
Photo credit: The Canadian Press.