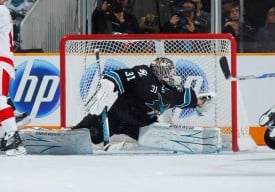 UPDATE (5/9/11): I mentioned below in my recap/analysis of game 5 that "Many will talk about Marleau and his lack of production in this series (0 points) and, yes, that's cause for concern" and sure enough Jeremy Roenick's on-air criticism is stirring up a certifiable poo-poo storm on the Web.
In case you missed it JR called Marleau "gutless". Response has been very strong.
Sharks play-by-play man Randy Hahn (who called JR's 500th goal) tweeted:
"For Roenick to call Marleau's performance gutless (twice) and question his heart on national TV is over the line. It was unprofessional."
Did JR cross the line? Or is everyone just doing their jobs?
Game 6 is going to be very interesting…
We cover a lot of San Francisco theater here on Stark Insider, so I'm pretty sure I can say that Jumbo Joe's performance tonight on that first period jumbo dive was not his most convincing effort, despite the theatrical spirit. And thus followed the remainder of the evening. Not good.
So that's what it feels like to be on the other end of a comeback…
For the second game in a row the San Jose Sharks failed to close out the Detroit Red Wings.
Well, at least we only need to look up North for slight comfort. Vancouver, too, is having the same issue with the up-start Nashville Predators. Both western conference semi-finals will go to at least a game 6, while Tampa Bay and Boston look on (and rest) over in the East. How much is killer instinct going for on eBay these days?
This 4-3 loss is more than just a loss. The sleeping giant has awoken. Like I've said before, watch out for the Original Six factor. Anytime you have Holmstrom, Datsyuk, Zetterberg, Lidstrom, Cleary lining up against you, you are never close to home free.
Many will talk about Marleau and his lack of production in this series (0 points) and, yes, that's cause for concern. But, keep in mind the Sharks had a 3-1 lead early in the last frame and let the Wings win it with three unanswered goals. That's a team issue – a mental issue – not the result of one player or play. There was several players MIA tonight: Thornton, Heatley, and Niemi all come to mind. Couture, Murray and Pavelski, once again showed plenty of drive and effort throughout. So did McGinn even with less than 5 minutes of ice time. Coach: give him more shifts!
Now the series heads back to Motown. Expect a crazy-loud, octopi-twirling crowd. It will be a fierce atmosphere. The chances of San Jose walking out of there with a W look slim. Which could mean a game seven back at HP Pavilion. You never know, though.
This is a heavyweight bout and it makes for grand spectator sport.
Is there anything better than the NHL playoffs, mes amis?