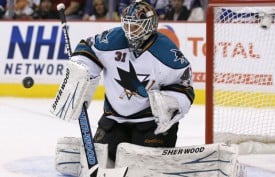 Well maybe tonight's 7-3 loss to Vancouver in game two of the western conference final wasn't entirely shocking. After all the Canucks finished the season with the best overall record and have a solid line-up, including the exceptionally talented Sedin twins. But the way they lost this game — especially as the number two seed and with a super-star calibre roster — is nothing short of jaw-dropping.
It was an epic melt-down. It wasn't even close.
The plane ride home to San Jose is surely not going to be much fun.
The quick re-cap: the Vancouver Canucks managed to out-score, out-class, and out-work San Jose for 60 minutes. The Sharks decided to throw any sense of a game plan out the window, and pretend it was a pre-season tune-up… for the WWE.
Meanwhile a guy named Ben Eager, who's played for four different teams in the last five seasons, and had all of 7 (seven!) points with San Jose this season, single-handedly led the $60 million lemmings march as a long list of invisible Sharks — Heatley (the highest paid player on the team), Marleau, Setoguchi, Thornton, Clowe — followed looking listlessly to the sky.
The best player for the Sharks was, yet again, Antti Niemi – and that's saying a lot in a game where he allowed seven goals. But amazingly, it's absolutely true. Time and time, after the forwards had over-skated on the forecheck and allowed Vancouver to stroll through the neutral zone, and the defense failed to match the speed of the oncoming rush, it was Niemi who made one beautiful save after another. Of course, none of that will be remembered, and nor should it.
And why do super-stars like Joe Thornton need to resort to slashing behind the play? All night long he was out-hustled by Ryan Kesler. In return he would slash Kesler's wrist, or his leg. A very pathetic display. And to Kesler's credit, he never retaliated or went crying to the refs.
Eager though is the headline here. That in itself is the most bizarre thing I've seen yet in the play-offs. He even managed to draw a penalty on his meaningless last period goal with two and a half minutes remaining. After scoring on a fluky deflection, he stood over Vancouver goaltender Roberto Luongo and taunted him. In his mind, Eager must have thought he was rallying the troops. Sending a message. I don't think this guy is best friends with Lady Bing. Did he attend the same finishing school as Sean Avery?
Regardless all that is the fault of Coach McLellan.
Kyle Wellwood was not playing that poorly. The line change was like applying nitro glycerin to a cold sore. What?! Exactly.
I don't think "fine-tuning" will be used in much post-game conversation and planning.
Jeremy Roenick- what was the word you used? Oh, yes: gutless — not a single player this time, mind you (and count me as one who didn't like that JR used it to describe Marleau's play in game 5 last series against Detroit). It might be time to repurpose that adjective for the entire team.
The upside: the series comes home to the HP Pavilion. This is a rattled looking team that needs help. They've got the talent and experience, so a turnaround in game three is not out of the question. When you have strong goaltending, anything is possible in the play-offs.
Kudos to the Canucks' Bieksa who scored a Gordie Howe Hat Trick – a goal, an assist and a fight (albeit with Patrick Marleau). If anyone was channeling greatness here at Rogers Arena, it was the team in blue and green.