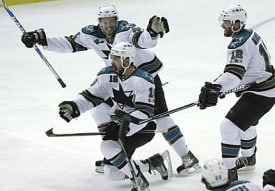 Just like a hockey stick during a heavily torqued slap shot, the Sharks tonight bent – a lot – but unlike an Easton they did not break. The result, a 4-3 win in Motown, was still as dramatic and yet another showcase for the NHL.
In game 3 the home team was clearly the better team. In every category: tangible (hits, shots, possession in the zone) and the intangible (momentum, intensity, grit). In the end none of that mattered. Call it a great playoff road game for San Jose. They just would not quit.
For the second time in this young series the Sharks won in OT and now have a chance to sweep the Red Wings at Joe Louis on Friday.
There were a cavalcade of stars tonight. This is a team that is beginning to thrive under pressure. Why win by more than one goal? Ulcers in Silicon Valley can come from more than just making the quarter, or navigating Highway 101.
Setoguchi (3G) with the hat-trick and OT winner @ 9:21. Wow. Sweet revenge I say for the Bertuzzi hog-tie that resulted in a bad call, sending Setoguchi to the penalty box during a mighty stressful OT penalty kill. I admit, if it was my teammate that pulled off that stunt I'd think it clever. But this is Bertuzzi, so it was boorish, lame, and typical.
Thornton (3A) , who set-up the winner on a mighty fine effort that started in the Sharks zone, and looked dangerous on multiple occasions.
Boyle (1G), perhaps getting the monkey off his back with a goal on a sweet back-door play that tied the game in the 3rd and gave the teal and white hope.
And let's not forget Niemi. Stellar. You can't fault Antti for any of the goals. He looked solid throughout, smothering the puck often. Positioning was also on mark.
Still, the accolades come easy after a win that puts Sharks one victory away form a Western Championship appearance. About that bending then…
Perhaps the frantic scramble (or as broadcaster Dean Brown in Ottawa would say "Scramble… SCRAMBLE… SCRAMBLE!") in the Sharks zone during the second period was evidence Lady Luck was shining down. After D Wallin lost his stick all hell broke loose. Detroit then set-up a quasi power-play taking advantage of the stickless Shark. Shots were flying, and the Wings were all over Niemi. Later during the sequence that felt like an eternity to this viewer rookie sensation Logan Couture passed his stick to Wallin. He then hobbled around, bent over — exhausted — trying to block shots, tie-up bodies. If you squinted hard enough it looked like he was doing some kind of Cossak dance. It was desperation time. But… the Sharks did not break.
Photo: The Canadian Press.