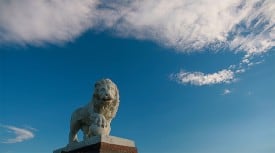 According to reports it appears that Apple is readying a cloud service for the upcoming release of Mac OS X ("Lion"). All the clues are pointing to a "music locker" that would function in a manner similar to Amazon's Cloud Drive which debuted last month.
AllThingsD (Wall Street Journal tech blog) suggests that Apple has been busy locking down licensing deals with various content partners including Universal Music Group, Sony and Warner.
AppleInsider indicated in a post that a French developer has discovered a feature codenamed "Castle". The new service which was found in a developer build of Lion would allow ostensibly enable users to migrate content from their MobileMe accounts.
Also, sources report that Apple has paid $4.5M for the iCloud.com domain name (purchased from Xcerion, a company in Sweden).
And let's not forget that Apple confirmed it's investing $1B into a massive 500,000 square foot data center.
Add all this this together and the picture becomes pretty clear: Apple wants to be the next big company to be attacked by Poppa Hacker.
Yes, the timing is a little unfortunate.
With the recent, high profile outages at Amazon and Sony (the PlayStation Network is still down almost two weeks after the breach), consumer sentiment regarding storage in the cloud is likely suspect. Trust takes time, and the game is early, but these set-backs don't exactly instill confidence.
Still, it's unlikely that consumers will stop streaming movies using services like Netflix and Hulu anytime soon. Plus, we're talking music files, and other non-critical information… not banking assets. So it's likely these are merely road bumps along the inevitable journey towards cloud services. Remember: it's the 1970s all over again. Only this time the "client" is a thin little tablet called the iPad.