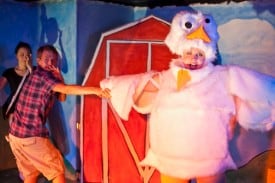 Berkeley's Impact Theatre today announced its 2011–12 "not-so-sweet" sixteenth season, featuring a piquant slate of two Bay Area premieres, an action-packed classic, and a world premiere play by Bay Area rising star Lauren Yee, who penned Impact's monster hit Ching Chong Chinaman.
"I wanted a season of new plays that were truly unique, in addition to a challenging classic," says Artistic Director Melissa Hillman. "Each play breaks new ground in its own way." Each premiere is by a playwright under 35.
The season opens in August with Cameron McNary's play about D&D gamers facing adulthood, Of Dice and Men, directed by Artistic Director Melissa Hillman. "Of Dice and Men took the Penny Arcade Expo in Seattle by storm. I had the play in my hands ten minutes after I heard about it. Ten minutes after that, I knew we had to do it," says Hillman. After its explosive debut at PAX, Of Dice and Men has amassed worldwide renown in the D&D gaming community. Impact is honored to give the show its second professional production.
In November, Impact opens The Chalk Boy by Joshua Conkel, author of the 2010–11 critical and audience favorite MilkMilkLemonade. In this black comedy helmed by Evren Odcikin (who directed last season's  The Play About the Naked Guy), four high school girls re-enact the story of the disappearance of a classmate, Jeff Chalk, from their tiny town of Clear Creek. They struggle with issues of sexuality, faith, the occult, and their friendship in this deathly black comedy that punches as hard as your high-school bully. Hillman says, "Joshua Conkel is quickly becoming one of the most important voices of his generation of playwrights. We're thrilled to be able to stage another one of his works. He's definitely a writer to watch."
The 2011–12 season continues with Impact's annual classic: this time it's Titus Andronicus, directed by Melissa Hillman and featuring Impact favorites Reggie White, Mike Delaney, and Sarah Coykendall, plus expert fight choreography by Dave Maier and blood tech by Tunuviel Luv. "Get ready for some surprises," says Hillman. "Notwithstanding Cal Shakes' upcoming production, Titus isn't done very often. But it's been on my mind for the past few years, and I think we have a team that's more than up to the challenge. We already have a few tricks up our sleeves." Shakespeare's bloodiest tragedy gets the Impact treatment opening in February 2012.
More on Impact Theatre:
Impact closes the season with the world premiere of local rising star Lauren Yee's Crevice, directed by Impact Associate Artistic Director Desdemona Chiang (who also directed Yee's Ching Chong Chinaman in 2008). Unemployed, overambitious, and verging on 30, siblings Liz and Rob vow to build themselves brighter futures. Now if they only knew what that meant. But late one night, they discover something that may just give them the direction they need to finally grow up. "We were proud to be the company to give Lauren her full-length professional debut with Ching Chong Chinaman, and we're ecstatic to have her back," says Hillman. "Des and Lauren are a powerhouse together." Crevice—which features longtime Impact favorite Marissa Keltie and which is partially funded by a grant from PlayGround, where the play originated as a short—opens in May 2012.
Impact Theatre – 2011-12 Season

Productions:
Of Dice and Men by Cameron McNary, directed by Melissa Hillman, Aug 26–Oct 8, 2011

The Chalk Boy by Joshua Conkel, directed by Evren Odcikin, Nov 3–Dec 17, 2011

Titus Andronicus by William Shakespeare, directed by Melissa Hillman, Feb 23–Apr 7, 2012

Crevice by Lauren Yee, directed by Desdemona Chiang, May 3–Jun 16, 2012

Where:
La Val's Subterranean, 1834 Euclid Ave, Berkeley, CA 94709

Admission:
$10–20

More info:
impacttheatre.com