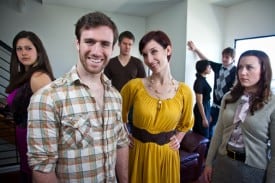 Not only is impact theatre in Berkeley taking a stab at pitch-black comedy for their next production, but they're also one of the Bay Area's first theater companies (as far as we know) to turn to site Kickstarter to help raise funds for it. Read on to find out more!
World Premiere: Pitch-black comedy Disassembly
Impact Theatre concludes its 15th season with the world premiere of Steve Yockey's dark comedy Disassembly, directed by Impact Associate Artistic Director Desdemona Chiang. Disassembly previews May 5 & 6 and opens May 7 at Impact Theatre's home, La Val's Subterranean in Berkeley – for an inside look at the Impact theater experience, be sure to check out Clint Stark's first-hand account, In Berkeley: Pizza, beer and 'Romeo and Juliet' (Russian Mafia Edition).
In Disassembly, Evan is what you would call accident-prone. Having suffered from various injuries his entire life, he's now been stabbed in the shoulder. In his apartment, his sister and his fiancée are trying to help him recover while fending off a steady stream of visitors as well as a bitter neighbor with a thing for stuffed cats. Something isn't quite adding up, though; Evan's apartment is a hub of acidly funny (and some not-so-funny) secrets and lies from which no one emerges unscathed.
Disassembly marks the fourth time Impact has produced a play by Steve Yockey. Impact introduced the Bay Area to Yockey's work in 2007 with the West Coast premiere of Cartoon. The company also presented the West Coast premiere of Sleepy as well as last season's simultaneous world premiere (with Dad's Garage in Atlanta) of Large Animal Games.
Yockey has also made a name for himself at some of the region's larger companies, notably with a production of Octopus at the Magic and a yearlong artist-in-residency at Marin Theatre Company through the National New Play Network.
"We were proud to debut Steve's work in the Bay Area, and we've been very pleased to see the way he and his work have caught on at bigger venues—that's exactly what Impact's mission is all about," Impact Artistic Director Melissa Hillman says. "Now we're thrilled to have his latest world premiere. We think it's his most solid show yet, and we've assembled a spectacular cast. We can't wait to show it off!"
The cast includes Impact veterans Marissa Keltie, Timothy Redmond, and Seth Thygesen, in addition to Dina Percia, Andrea Snow, Nick Trengove, and Kathryn Zdan. The world premiere will be helmed by Impact Associate Artistic Director Desdemona Chiang, who helmed this season's well-received MilkMilkLemonade as well as 2008's megahit Ching Chong Chinaman.
Online Fundraising with Kickstarter
Continuing its tradition of breaking new ground, Impact is one of the first Bay Area theatre companies that we know of to turn to Kickstarter to help raise money to mount the production. Kickstarter is an innovative way to engage funders at every level, starting at $1. As of this writing, dozens of funders have pledged from $5-257. However, in order for Impact to receive any of the funding, its $2,500 goal must be reached by May 1. The company is already more than 60% on its way to goal but must raise a little over $900 more to reach it by the deadline. The Kickstarter project can be found here: kck.st/disassembly.
Photo Credit: Cheshire Isaacs.
Disassembly

Impact Theatre, Berkeley
by Steve Yockey · directed by Desdemona Chiang

When:
May 5-June 11 · Previews May 5 and 6 · Opens May 7
Thursdays, Fridays & Saturdays at 8pm

Where:
La Val's Subterranean, 1834 Euclid Ave, Berkeley, CA 94709

Admission:
$10–20