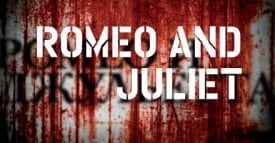 Impact Theatre continues its 2010–11 season with Shakespeare's Romeo and Juliet, directed by Impact Artistic Director Melissa Hillman.
The production opens February 19, 2011 and plays Thursdays through Saturdays at 8pm until March 27 (with previews February 17 and 18) at Impact's home, La Val's Subterranean in Berkeley.
After two highly successful outings with Shakespeare's comedies Twelfth Night and A Midsummer Night's Dream, Impact returns to tragedy with a vengeance. Most people view Romeo and Juliet as the consummate tragedy of forbidden love.
But to Artistic Director Melissa Hillman, Romeo and Juliet isn't a love story at all; it's a bloodbath.
"This play is about the effects of violence—the violence of passionate emotions as well as physical violence," Hillman says. "Passion is powerfully seductive. Many, if not most, would rather be destroyed on the rocks of their passions than step away, and yet so few understand the destructive power and the catastrophic effects one's own passion-motivated, rash decisions can have on the lives of others."
Impact is often praised for its ability to make Shakespeare relevant for contemporary audiences while keeping the original language intact. In this production, Hillman will set the action even more immediately and dangerously than ever: this Romeo and Juliet takes place in the world of the ex-pat Russian mafia, right here in the Bay Area.
"I always like to think of these plays as being somehow local," Hillman explains. "The Russian mafia is known globally as the most ruthless organized criminals in the world, and there are factions right here. The world is dark, gritty, and apt to explode into cold, efficient, terrifying violence without warning."
Romeo and Juliet

Impact Theatre

by William Shakespeare · directed by Melissa Hillman

When:
Previews February 17 and 18 · Opens February 19 · Closes March 26
Thursdays, Fridays & Saturdays at 8pm

Where:
La Val's Subterranean, 1834 Euclid Ave, Berkeley, CA 94709

Admission:
$10–20

More info:
impacttheatre.com