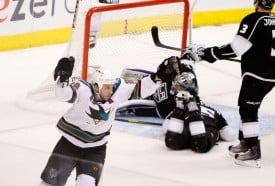 Year after year we hear the Sharks don't have the right mix of grit, talent and heart to make it deep into the playoffs. After last night's convincing 6-3 win in L.A. I'm inclined to believe — yes, I know, you've heard it all before! — that this year could be different. Here's why.
Ryane Clowe. Proof point number one. Look at every Stanley Cup winner in recent memory, and you'll find a high-performance power-forward at its heart. Sure these championship teams have elite scoring talent, and assuredly an all-star backstop in goal. But a guy like Clowe is the kind of guy that can carry a team. He can skate, rough it up when needed, and, as we've seen recently, he can score goals. Now, to be sure, he might not always score. That's ok. His presence might not even be felt on the scoreboard, but it will be there in the locker-room, and on the ice where other players will be hearing footsteps during his shifts. Yes, Marleau, Thornton and Heatley will need to dial-it-up if the Sharks are to have any hope of a championship run, but it's the Byfugliens of the world that sometimes make all the difference.
Niemi. Good call by coach Todd McClellan to go back to the guy. After letting in 4 goals in game three, the obvious reaction might've been to start Nittymaki, especially since he was between the pipes when the Sharks made that would-not-happen, could-not-happen style comeback after Niemi was yanked. This I believe: go with the guys that go you here. So this is a two-in-one bit of good news. Niemi demonstrated he could bounce back, and Nittymaki proved himself a very worth capable backup goalie. As an aside, it's hard not to feel somewhat bad for Jonathan Quick in the L.A. net… his GAA is looking pretty shoddy, but he's playing outstanding hockey. Then again, he plays for L.A., so maybe I should just not worry about these sorts of things.
Another bright spot in game 4 was the unflappability of the Sharks.
When the Kings started to mount a comeback late in the second period with two goals within 5 minutes, things could've unravelled quickly. But they didn't. Instead the superstar (Thornton) and the understudy (Pavelski) took matters into their own hands early in the third and squashed any potential rally. You had the sense that this was a team in control. The lack of panic is another great quality, and another proof point that this 2010-11 edition of the Sharks is really — really… I think — built for the NHL playoffs.
Round 2: Match-up possibilities

I know it's dangerous to look ahead, but it's hard not to at least peak at the possibile round two match-ups.

Assuming the Sharks beat L.A., they'll likely face the feared, well-rested Red Wings next.

Unless: Chicago continues their fierce re-awakening and knock-off the Canucks (in what would be a stunning upset worthy of the record books) in which case SJ would get a more agreeable match-up with Anaheim or Nashville. The prospect of knocking of two California teams – LA and Anaheim – would be a dream scenario.