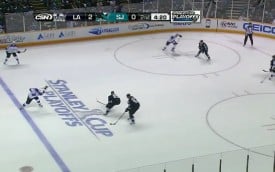 Well, isn't that special?! Once again being a Sharks fan means expecting the brutally unexpected.
Game 1, yes, it was close, but the Sharks showed grit, and pulled off the OT win. And then Game 2… whaaat?! Yes, it was the kind of night you might've thought a church lady was coaching the Sharks. There was no semblance of hunger on this night, as the Kings dominated in all facets of the game in a convincing 4-0 win at HP Pavilion. It was yet another frustrating playoff head-scratcher for us perpetually starved Sharks fans.
The loss, and woeful lack of effort, can be easily summarized in a single play in the second period.
On Drew Doughty's second goal of the game, an unlikely turn-around slap-shot from the blue line after a broken 4-on-2 rush, neither Heatley nor Clowe really seemed to care (it reminds me of my defensive game at Sharks Ice with Team Voodoo, after a bad bowl of curry). Here, in this split second in time, you have approximately $60M in contracts floating towards the puck with a possible chance to earn their paycheck and block, or make some kind of effort — sliding, yelling, diving … something!! — to confirm that, yes, this is the playoffs, and players that make a lot of money still care about the small things that can result in a win. Like blocking Doughty's Hail Mary, a shot that ultimately skipped a bit, stopped for an espresso, before finally deciding to slide quietly through the 5-hole of Niemi. It put L.A. up 3-0 and the Fat Lady could be heard warming up by the Guadalupe River.
On the bright side, Vlasic and Demers both played solid and physical defensive games.
But: where are Thornton and Marleau?
Part of me hopes that someone will cut Patty's cheek or slam him into the dasher. Remember Calgary a few years back folks? When he gets angry he shines… don't rattle the guy, and it seems — okay, maybe it's only a playoff thing — he's a little too mellow.
Joe, I don't know. Too many playoff monkeys on the back perhaps.
Still, it's only Game 2. The series is tied, and there's a lot more hockey left. Maybe the trip to L.A. will take some of the hometown heat (er) off.
As for Drew Doughty, it's hard for this homey ginger from Ottawa not to feel some CDN pride for the kid from Guelph. He wore the Maple Leaf with pride and won us a Gold for the Juniors (2008) and in the Olympics (2010). That I don't forget. So while I don't like to see the Sharks lose, if they must then so be it against an awesomely talented Canadian boy from London, Ontario.