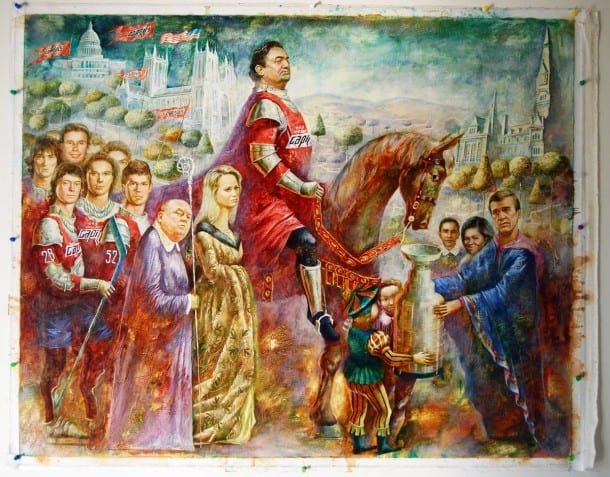 There's nothing quite like a game 7 in the NHL playoffs. Fortunately, after tonight's two matches (BOS/MTL and TAM/PIT) we will have enjoyed four of them. That's 50% of the first round contests that have gone all the way to a furious, wild deciding game.
For the NHL, owners and players, this is great news – all the sweeter that it comes right on the heels of the new TV deal with NBC and Versus (10 years, $200 million).
There was only one sweep so far, and that involved a Phoenix team on the verge of shutting down or relocating – it's not hard to see why Detroit, aside from the glowing in that Original Six fairy dust, crushed them so convincingly.
Then there are the story lines in these playoffs. There are some good ones:
Roberto Luongo, one of the biggest stars of the game, finally played a brilliant game for Vancouver – just in time to avoid a certain lynching.
Here in San Jose, Jumbo Joe finally had reason to celebrate with his series-winning OT goal that sent L.A. packing.
Bad blood is the order of the day in the Montreal/Boston series – see, there's that Original Six thing again.
Nashville won their first-ever playoff series with a team of relative unknowns, but – as they say – tremendous heart (e.g. check out the backstory on Jordin Tootoo).
Sid the Kid may have a chance to return from his concussion woes if Pittsburgh can knock off a surging Tampa Bay team tonight in game 7.
Some of my favorite, lesser-known players (at least in most parts of the country) to watch this year: P.J. Subban (#76 D – Montreal), Michael Frolik (#67 F – Chicago), Logan Couture (#39 F – San Jose).
Back to San Jose. It was a nerve-wracking first round. And it seems to be always that way. Now, sitting between the Sharks and the Western conference finals: the feared and mighty (and, yes, Original Six) Detroit Red Wings. Ouch. Man if Chicago had won last night in Vancouver, we'd be facing them instead. I'm not sure that's any easier. Then again, this is the playoffs and nothing is chicken feed. Any team with Zetterberg and magical-shot-with-stick-between-the-legs Datsyuk must be given the ultimate in respect. However, the Sharks are no slouches either, and I like the mix of star power (Heatley, Thornton, Marleau), grit (Clowe, Murray), and youth (McGinn, Couture). Then there's the clutch (Pavelski). However, there's the quasi x-factor, certain question mark: Niemi. The jury is still out on the goaltender – is he playoff calibre? – but coach McClellan did the right thing by sticking with his guy.
Up next: predictions for round two.
For now, enjoy some Ukrainian art, or as some are calling it: Capitals art jinx.