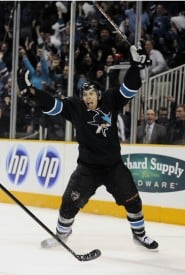 It's the NHL playoffs, so that must mean that Joe Clutch Pavelski is once again scoring big-time goals – with prime-time celebrations to match. Sharks win game one 3-2 over L.A., and pretty much everyone knows that by now.
There are some really good signs that this might be the year our beloved Los Tiburones (as Mark Purdy of the Merc famously refers to the teal and white… or in last night's case, the ominous black and teal ) are finally ready to skate all the way to Lord Stanley's Cup. And by the way, wouldn't that be something to see a Sharks' parade across downtown, through Almaden then down Santa Clara Street? But wait! Let's not get overzealous here, this is just one game, and it was a close one at that, against a feisty, skilled L.A. team.
Onto those early, positive signs.
Danny Heatley, widely regarded as locker-room poison by Ottawa fans, took just twenty-eight seconds to assert that bygones be bygones. BTW – this is a guy that is having a wildly emotional, occasionally tragic, and often melodramatic NHL career. There was the horrific Ferrari crash in Atlanta that killed his passenger Dan Snyder, a teammate with the Thrashers. Then there was the off-ice do-diddys in Ottawa that was worthy of Jersey Shore episode. But Heatley persevered — and signed a nice fat 6-year $45M contract with the Sharks last year. If the Heater is on his game come May/June, things are looking very bright.
67s magic.
Then there's Ottawa 67 alumni, Logan Couter (drafted 9th in 2007). Are you kidding me? What a great story… an Ottawa boy (yes, ok Guelph, but it was in Ottawa where the hockey gods smiled) does good, real good (and tweets to tell) – ah, what would Don Cherry say? Without Couture's second period goal that tied the game, the Sharks might very well have found themselves down a game, with critics/fans immediately reaching for their hacksaws. I say: Rookie of the Year. And I don't think I'm alone in making that not-so-out-there prediction.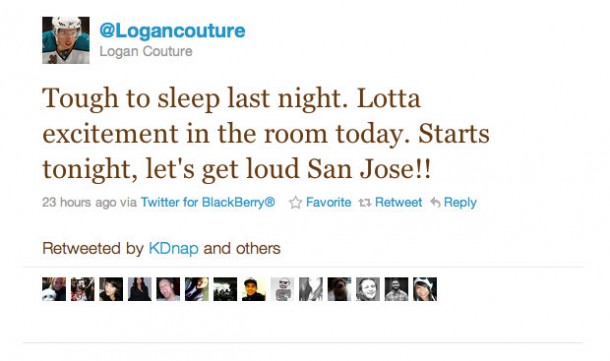 The puck stops here.
And Niemi. This is looking good, a playoff-ready goalie. Sure last night two-stellar goalies squared off with Jason Quick perhaps taking the edge. But I don't care about L.A. A championship run in the NHL starts in goal. Every single time, every sigle year. Think of any Cup winner in recent memory, and you'll picture a goalie making one breath-taking, photo-ready save after another: Chicago '10 (a certain Antti Niemi), Pittsburgh '09 (Marc-Andre Fleury ), Detroit '08 (Chris Osgood).
See you Saturday night at HP Pavilion – let's just hope I don't have another conflict with some Russian Women in Berkeley.
Notes (from SJ Sharks web site): Teams from Southern California have won the two previous all-California series, with the Kings beating the Oakland Seals in 1969 and Anaheim beating San Jose in 2009. … The Sharks wore their alternate black jerseys for the first time ever in the playoffs.