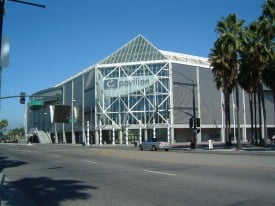 Round 2 is here, already. The puck drops in just a few hours up in Vancouver in their match-up against Nashville, the first in four quarter-finals across the NHL. Talk about lack of rest! Vancouver is coming off a grueling seven game series against the Chicago Blackhawks, the current Stanley Cup champs. They can count their lucky stars they were able to pull one out of the hat in OT and avoid massive heart burn–the Canadian elections don't even come close to this kind of stress.
But this is just one of several story lines across a traditionally challenged league that seems to be on the up-swing (i.e. the NBC/Versus $200M, 10 year deal).
This much we know: in 2011 there will be a new champion. So who will it be: Vancouver, Nashville, San Jose, Detroit, Philadelphia, Boston, Tampa Bay, or Philadelphia? It's really a toss-up. Forget about records and forget about match-up rankings and other statistics. Is there anything less predictable than this year's play-offs?
Another interesting point. Perhaps no other professional sport sees such a disparity between the quality of play in the playoffs versus the regular season. It's significant. The play is faster. The hits are bigger. The shifts are shorter, more intense. The goal-tending often miraculous. At times it's like watching a completely different sport — it's that much better in the play-offs. It really is an amazing spectacle. We can only hope that round 2 provides some of the same drama, intensity and unpredictability we've already witnessed… I mean, 50% of the series went to game 7s. Bring it on!
Okay, onto my predictions.
First, I should note that I missed the SJ series by a game, having picked the Sharks to beat the Kings in 5. Well, it took 6. And it came very close to taking 7. This was a feisty L.A. team. Looking ahead it doesn't get any easier. There's just something about the Original Six aura. Then there's that red and white Detroit uniform that perpetually haunts us Sharks fans…
San Jose vs. Detroit – "The skill series"
Sharks in 7.
I don't see how this series doesn't go the distance. It has the makings of one of those series where neither team wins two in a row. It's hard to picture the Sharks winning two at HP Pavilion where they'll start the series on Friday. So that will likely be a split. Ditto in Detroit. I think the Sharks will pull it off IF — big IFs: Neimi is stellar. And Thornton/Heatley/Marleau produce. Without those two pieces in place for this series, San Jose will lose any hope of seeing a Cup on parade down Santa Clara Streeet.
Vancouver vs. Nashville – "The blow-out series"
Vancouver in 4.
Nashville is a great story. Their first series win. The unsung heroes (Jordin Tootoo). And, how praytel, did Mike Fisher end up playing in music city? How convenient that his wife, country star and American Idol alumni Carrie Underwood, can cheer him on from the town she now seemingly owns. Sure Vancouver is emotionally taxed, and likely physically drained. Still, they were the best team in the NHL this season, and there were times when they looked scary dominant against the Blackhawks — the Sedin brothers at full capacity is a sight to behold. As much as I prefer to see this series go longer, I expect the Canucks will erase their first round nerves with four relatively easy wins.
Tampa Bay vs. Washington – "The scoring series"
Washington in 6.
Of all the second round series this might be the one that produces the most goals. There is a lot of star power here — Ovechkin, Semin, Stamkos, St. Louis — so expect fireworks and lots of razzle-dazzle on the ice.
Boston vs. Philadelphia – "The bruiser series"
Boston in 7.
This one is all about the penalty minutes, folks. If there was a time to wear a full-on military-grade protective body suit this would be it. Mr. T ought to provide the color on the telecast. Pain… for sure. This could be a classic Broadstreet Bullies affair. A 70s throwback, but with better music. I'm picking Boston for two reasons. Tim Thomas is the man. He is in the zone. He could be the best playoff goalie right now. And, again, that Original Six, x-factor. Yes, call me cheesy, and criticize my lack of analysis here, but for some reason that fabled history often ignites something extra in the players.