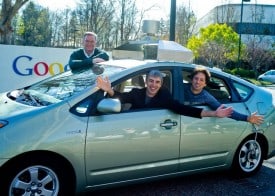 Today Google's CEO just took a cut in age (but likely not pay). Not Mark Zuckerberg (26) levels, but at 38 years old Larry Page is almost twenty years younger than his predecessor, Eric Schmidt. Page, a co-founder, takes over a company valued at $188B and with over 20,000 employees.
The move has been in the works since the beginning of the year (see An Update from the Chairman). Schmidt referred to the management trio as a "triumvirate" and said the changes would help "simplify our management structure and speed up decision making."
Many are speculating the move will help the now large company regain its start-up cadence, and open a door to the next wave of innovation.
Does age matter?
Under Schmidt's 10-year tenure as CEO, presumably Page has had time to learn from a seasoned executive. He's always been known to be a strong computer scientist and product visionary – after all, it was his and Sergey Brin's algorithm that forever changed the search landscape. Excite. Who? Infoseek. Who? Ask Jeeves. Who? Yahoo…
Being a young CEO of a hot tech company is all the rage these days. Twitter CEO Biz Stone is 37. Aforementioned Zuckerberg is the world's youngest billionaire at only 26. Groupon CEO Andrew Mason is 30.
Compare that to the current leaders from the first wave of tech titans: Oracle's Larry Ellison (66). Microsoft's Steve Ballmer (55). HP's Leo Apotheker (53).
Is it any coincidence that the fastest growing, next-gen companies are led by younger leaders?