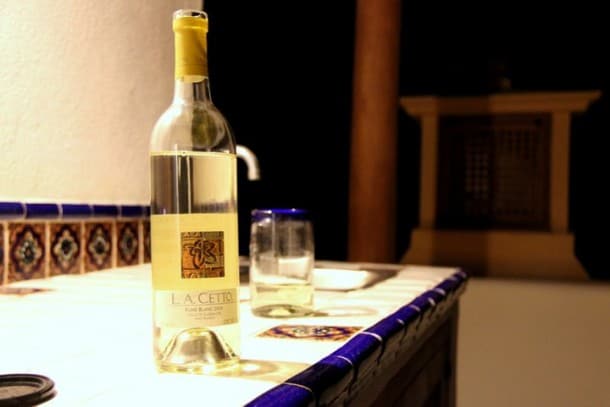 It's true. Compared to Napa, there are about 400 or so less tasting rooms and wineries here in Loreto. Translation: zilch.
Not that I'm expecting them.
One reason why this homey ginger likes to escape to this small fishing village (located on the Sea of Cortez in the Mexican state of Baja California Sur): it's the anti-thesis of life in Silicon Valley. Nevertheless, I'm constantly surprised at some of the technology in place here. The new LTO airport terminal, for instance, is quite modern – it even has motion sensing faucets! Our little casa has fibre to the door, a solar heating system, and elongated toilets. Remember this is a town with about 11,000 people. There are seven buildings here dating as far back as the 18th century. Yes, San Jose used to have orchards. Loreto had missions (and still does).
But what about those mysterious Baja wines?
When we land, our routine is the same. The airport sits between downtown and the Loreto Bay resort about 15 minutes south in Nopolo. We started building a home in this development in 2006 when it was nothing more than a patch of desert scrubland. Looking across the very blue Sea of Cortez towards the Coronado Islands a few miles offshore, serenity and inspiration are a few words that come to mind.
So first, we always head into town and hit up the local Safeway… er, El Pescador.
Grilling on the Casa Terrace in Loreto Bay
Wine is a tricky proposition here. Not because the Baja can't support vineyards. It can. In fact, the Guadalupe (Ensenada) is one of those wine regions just begging for a Susan Boyle-like shot at stardom. Located in the northern part of the peninsula its rugged terrain is perhaps only matched by the rough-and-tumble characters there fermenting the juice. A few years back at a local festival in Loreto the winemakers and owners could be seen transporting cases on Harley's. The biggest challenge here might be the lack of identity and awareness. The mediterranean climate is ideal, however, and I'm discovering that many of these wines are just as good, even better in some cases, than the daily fare back home at TJ's.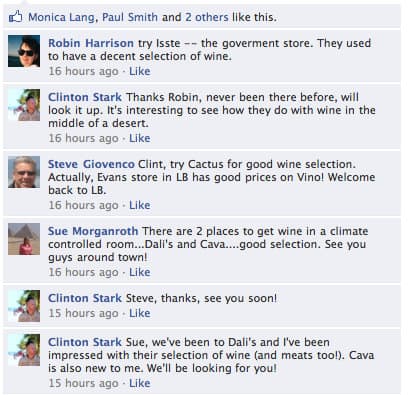 Some day soon I hope to get there for a first hand experience. For now, I can scan the shelves here at El Pescador. It's not Trader Joe's or Whole Foods. Selection is limited when it comes to wines, but given the desert-like climate, surprisingly decent. I wonder about shipping logistics. At home I envision our shipment of Ehlers Cab making its way all the way from Napa down to Silicon Valley in a bumpy, steamy UPS wagon. So instead we pick up our wines. The added benefit of socializing and winery parties is welcome. Imagine, though, cases making their way down the Baja, from Ensenada in the north, across the rugged terrain and through the winding, dusty roads through the Sierra de la Giganta, over to Loreto in BCS, and then five hours further south to Cabo San Lucas (the apparent choice for many a spring breaker based on the party terminal we encountered at LAX on Sunday).
L.A. Cetto from the aforementioned Valle de Guadalupe occupies the lion's share of shelf space: a Fume de Blanc, Blanc de Blancs, and Sauv Blanc. Price is about 140 pesos, or approximately $12 US. Founded by an Italian, Angelo Cetto in 1970, the winery now accounts for over half (according to some reports even 65%) of production in the Baja.
The verdict?
It's decent. I like to chill the heck out of the stuff. The heat here quickly brings liquids to room temperature, although at this time of year, the weather is quite temperate. Don't expect layers of fruits, and complex character. The Fume Blanc is more about minerality and stone, than it is grapefruit and peach. Which suits me just fine.
The wine lessons continue. I've learned that there are several more stores with broader selection that I should check out. Here are some mentioned on Facebook. Thanks to Al, Pat, Sue, Robin and Steve for the recommendations. Even though I've been coming here for 5 years, it's a never ending voyage of sorts… the whales, the missions, the day trips (San Javier, La Paz), the beaches, the islands, the restaurants, the shops…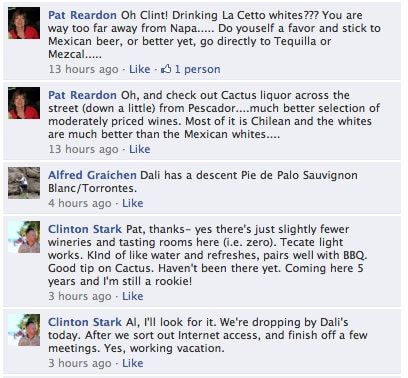 Other news for Day 1- we have Internet. Only 1Mbps mind you, but still access to the World Wide Web is now possible from our little "Casa del Largarto Azul."
To do: a tree for the courtyard, a small loveseat/couch for the living room, maybe an iron bed, whale-watching, learn Spanish, fresh European style pastries at Panoli. Optional: all-you-can-eat tacos.  Avoid: burning skin under Baja sun until boils appear – like I used to do as a kid in P.E.I.
For now: huevonear.