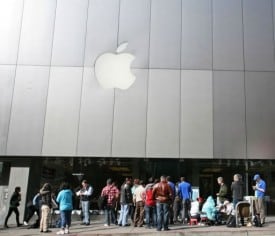 So far no luck. Who would've thunk the Apple iPad 2 would be white-hot. Then again, I should know better. There hasn't been this much hype for a gadget since the iPhone, and it seems like the sequel to the first-gen iPad is generating even more demand. Based on my failure to score one last night, it seems the San Francisco Bay Area has jumped into the tablet frenzy whole hog. Who's Xooming who?
I first tried the SF Apple store. I figured after my meeting ended around 7:30pm the line-up would've cooled. Instead when I arrived the line-up wrapped around the block, as reported. Drums and music could be heard. It was a street party.
Palo Alto wasn't much better. Turns out, at least according to some, that they only have 64GB 4G Verizon units in stock. Surprising to me considering the anti-AT&T movement.
Finally we had to stop by Valley Fair in San Jose anyways. So while Loni darted off to the Nordstrom make-up dept. I headed to the Apple store once again fearing the worst. Amazingly the line looked very short. I asked one of the friendly blue shirts about the wait time. Two and a Half hours! The deceptive line-up was a multi-part deal, extending around a corner (where you needed a ticket), then outside the mall. I think it also wrapped around the Golden Gate Bridge as well. I ended up watching a Bobbi Brown blush demo. The seat was very comfortable.
We're Baja Bound, so I have one more shot today to get one before the vacation. I know, I know… there are more important things in the world. And I haven't forgotten Mike Daisey's cautionary tale The Agony and Ecstasy of Steve Jobs (I don't think I'll ever forget that performance). This homey ginger really ought to be thinking about critical matters, like, securing large portions of sunscreen.