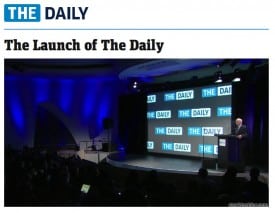 Well now we know The Daily can't control the weather, but let's hope it can help save publishing or at least provide a glimmer of hope.
Snow and inclement weather may have put a bit of a damper on the moderately attended proceedings at the Guggenheim museum in New York, but regardless The Daily, the exclusive iPad-only newspaper, is here and ready for download. It will cost $0.99/week or $40/year and download to your iPad automatically each day. Each issue will feature approximately 100 pages of original content (see below for summary of features).
At the event, which featured Apple exec Eddy Cue subbing for CEO Steve Jobs who is on medical leave, News Corp Chairman and CEO Rupert Murdoch appeared on stage with an iPad and demonstrated the new "craft."
"New times require new journalism," said Murdoch. "Our challenge was to take the best of conventional journalism […] and combine it with the best of contemporary technology."
He went on to explain that there is a market out there that doesn't read newspapers or watch TV but still consumes content.
Their target: "the more than 15 million consumers who plan to own a tablet this year."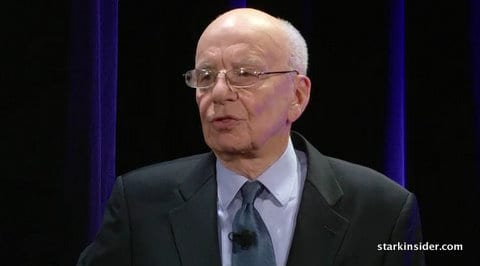 The demo featured the first edition of The Daily with a cover story on Egypt.
It should make for a really interesting test (to the tune of $30 million) of consumers' interest in paying for content that is mostly already available free across web sites, other news sites and blogs. Murdoch and team are surely hoping a nice, thick layer of "gloss" will help do the trick — the iPad does look good in cherry stilettos.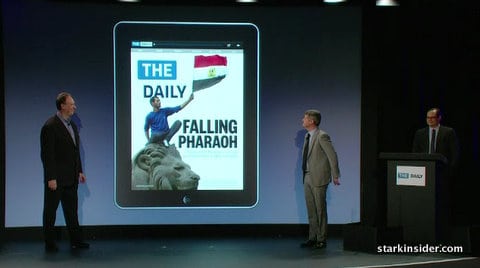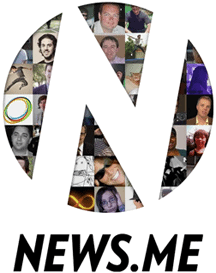 According to Murdoch, it costs about $500K per week to run The Daily.
Meanwhile, The New York Times is responding with News.me, a social-based news aggregation app, which at this point at least sounds more like Flipboard than it does The Daily. No launch date or pricing has been provided.
The Daily includes:

Over 100 pages of original news, life, entertainment, opinion and sports – every single day of the year
Original video content (in HD)
A selection of articles read aloud
360 degree photos you can explore by swiping
Immersive photography
Interactive charts, info-graphics and clickable 'hot spots'
The option to save articles to read later
Web-friendly versions of articles you can share via Twitter, Facebook and email
In-app comments – including audio comments
Your local weather
Your favorite sports teams' scores, news and feeds
Crossword and Sudoku puzzles