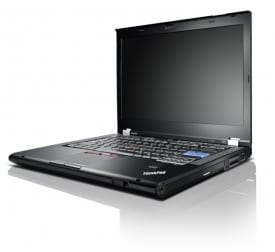 Lenovo took the wraps off their lineup of new laptops which run second generation Intel Core processors known as Sandy Bridge. My early thoughts: blah, blah, and… blah. Boo-hoo!
Not that I don't like Lenovo.
I do.
No doubt, ThinkPad was the original laptop tank, robust and able to take the day-in, day-out abuse of the corporate world. To that, they are still very much the gold standard.
This, however, is 2011, not 1994.
So I can't help but wonder if that staid chunky, black brick isn't ready for a makeover worthy of Cupertino standards.
Available March 29, the line-up includes 6 new models — ThinkPad T420s, T420, T520, L420, L520, W520 — with bases prices ranging from $719 to $1,329. All feature the now classic red Trackpoint or "nub" located between the "g" and "h" keys that enables rapid cursor movement without moving one's hands from the keyboard.
Sure the new ThinkPads are ready to impress IT managers everywhere. They feature longer battery life, SSD options for reduced hard drive access times, and Intel's new processors.
Nevertheless, I'm not exactly seeing IBM levels of innovation here. Recall the pre-Lenovo, pre-China days? While I agree that Lenovo has done a respectable job in maintaining the franchise, I'm not so sure they're pushing the envelope when it comes to design.
Where's thin?
Where's sexy?
Where's the amazingly-out-of-this-world-stop-the-presses-all-powerful-headline-worthy new must-have corporate weapon?
If you don't think it matters because the corporate world is by definition middle of the road, I suggest that's not much the case anymore. Aesthetics matter. Technology defines us. Whether we're jogging with an iPod, reading the latest iPad magazine on the couch, or getting exercise by attacking warlords with XBOX Kinect… design matters!
(Then again, maybe I'm just peeved the long weekend is over.)