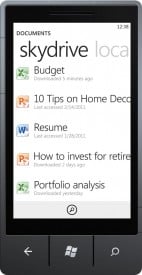 Smartphones running Microsoft Phone 7 may not be as hot as Google Android or Apple iOS, but that doesn't mean the codenames for updates can't be cool, and its users aren't happy. Today at the Mobile World Congress in Barcelona CEO Steve Ballmer announced a series of updates coming in 2011 to the mobile OS, which according to NPD Group, owns only 2% market share (putting it in a dead heat with HP/Palm WebOS for last place).
Much like Google and its parade of colorful code names for Android — Cupcake, Froyo, Gingerbread — Microsoft is working on at least two updates for Windows Phone 7. But only the first, NoDo, was mentioned at MWC. It is planned for a March release and includes everyone's favorite feature: copy and paste.
It was less clear when other new features would be made available, but the MSFT press release does mention several of them:
Copy and paste functionality via first major update, coming in the next month
Twitter integration directly into the People Hub in 2011 (Similar to the way that Facebook is integrated today)
Support for Office documents in the cloud in 2011
Dramatically enhanced Web browser experience based on IE9 in 2011 ("IE9 will be available for Windows Phone 7 in the second half of 2011, offering "a dramatically enhanced mobile Web browser experience." The IE9 beta has been downloaded an estimated 25 million times. Feb. 14, 2011)
A new wave of multitasking applications in 2011
Targeting significant volume of Nokia Windows Phones in 2012
New SkyDrive support services will offer users the ability to access cloud-based Microsoft Office programs via their phone
According to Andy Lees, president of Microsoft's Mobile Communications Business, the company sold 2 million phone licenses in Windows Phone 7's first two months. And there are now more than 8,000 apps in the marketplace and 28,000 registered developers.
Don't Worry, Be Happy
Since Microsoft lags in both market share, and arguably innovation in the mobile market space, they've turned their attention to the warm and fuzzy. In their press release they continually reference how happy their users are. "You don't sell phones if people aren't happy."
Still no word on CDMA versions for Verizon and Sprint
Because WP7 currently only support GSM, AT&T and T-Mobile are the only carriers that offer the smartphones. That obviously limits point of sale exposure. So a big question is, When? When will a CDMA version be announced that will expand the presence that WP7 so desperately needs? No official word yet. Many expect that it could be part of the NoDo release or perhaps in the summer, although no update was mentioned for that time frame. The wait continues.
Microsoft and Nokia
Last week Microsoft and Nokia announced a broad, strategic partnership. The most notable component is that Nokia "would adopt Windows Phone as its principal smartphone strategy, innovating on top of the platform in areas such as imaging, where Nokia is a market leader."
Given Nokia's strength in markets outside of North America, it could bolster global presence for WP7, which is an area where Google Android and Apple iOS are perhaps slightly vulnerable.
So far investors aren't thrilled. Nokia shares have fallen some 20% since the announcement last Thursday, despite speculation today that the deal includes potential incentives by Microsoft valued in the "B" (billion-dollar) range.
Amazon.com App Now Available on WP7
Also today, Amazon has announced that its shopping app is now available for Windows Phone 7.