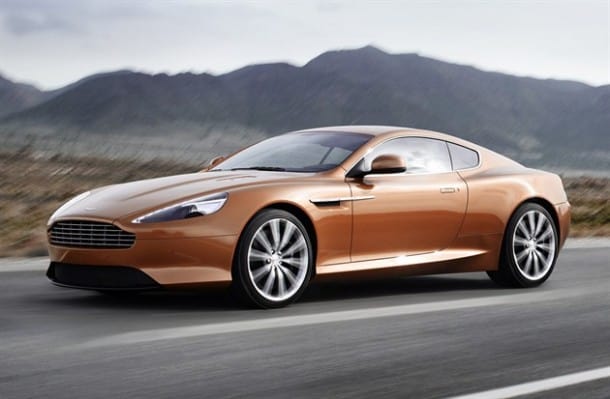 Aston Martin has released details on the 2012 Virage Coupe, and the design is a beauty. Although by no means a dramatic departure from current models, the lines of this 490 horsepower Aston are simply gorgeous. The car launches next week at the Geneva Car Show (I guess it didn't want to hang with the heavy iron in Detroit) and slots between the DB9 and DBS.
The body is svelte and sophisticated, and continues to build an Aston look that is unmistakable. There's the famous 5 slat grill; with the Virage designers have softened its edges just enough so that its placement doesn't appear as jarring as it does on the wicked DBS.
Sitting low, the Virage has trademark sports GT proportions,with nice haunches at the rear quarter which flow nicely up onto the fastback and end in a nice wedge/semi-spoiler along the trunk. One element that might be controversial for die-hard Aston fans is the use of angular bodywork along the bottom front and sides. The Db9 has similar cladding, but it's less pronounced. Stare at the Virage long enough and I believe it anchors the care elegantly and provides edgy flare that offsets the otherwise curvaceous body. Without this detail the car would certainly not look as purposeful.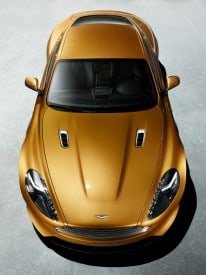 Like all Astons I still have a tough time picturing it as a track car — although with plenty of horsepower from the 6.0 litre engine, 420 pound-feet of torque and aluminum chasis it's obviously more than capable. Just ask James Bond who does his racing on the streets of England and CITY. In Goldfinger (1964) Sean Connery famously drove his DB5 down a narrow alley, crashing into a mirror. Yes, it was positively shocking… to see such a lovely car mangled. More recently Daniel Craig one-upped him. Well, actually seven-upped him, let's say, as in seven body rolls in a DBS on a dark Montenegro highway in the stellar Casino Royale (2006). Is there a more iconic film car today?
But for track days I always thought the Porsche 911 the more suitable car, or a Ferrari. The 911 — an iconic design in its own right — feels like it wants to be flung about. The Aston is perhaps more gentlemanly, keeping it distance from Detroit, for example, and embodying very much the GT ethos. Nothing wrong with that at all.
Back to design. This 2012 is a winner, again, for Aston Martin. One interesting point on the interior. According to Honest John (and who wouldn't trust a guy with a name like that?), "In all, over 200 man hours will be spent handcrafting the Virage at Aston Martin's global headquarters in Gaydon, Warwickshire." So Mike Daisey is right again: handmade manufacturing in this day and age, whether it be for iPads and iPods in China or luxury sports cars in England, is very much alive and well.