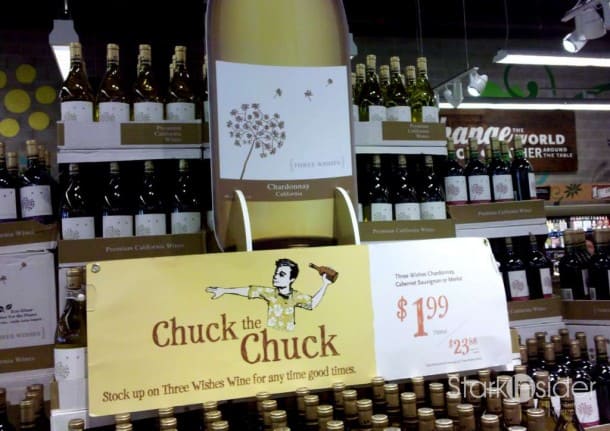 How low can you go? Over the weekend I was making the rounds at the local Whole Foods wine section and ran into this amusing display. In this battle of the loss leaders, Trader Joe's infamous two-buck Chuck is being aggressively targeted by Whole Foods with their "Three Wishes" line-up.
Obviously these beverage wines are used to attract consumers into the store where undoubtedly they end up buying more than just the wine. But this is the first time I recall a campaign being so direct, so cheeky. It's entertaining stuff — who knew discount wine could be so much fun?
Ironically, if the arm strength on this vino QB is anything as good as Ben Roethlisberger or Aaron Rodgers then indeed he could very well throw a hail mary deep into the Trader Joe's located right across the street from this store. In fact he's aiming right at it. The clever placement of the poster is not lost on this bemused passerby; neither is the Pro Bowl-worthy form and attire.
The big question: how good (or bad) is the Three Wishes wine?
I broke down and invested $6 in three bottles — a Chard, Cab, Merlot — and will be putting the juice through the paces shortly. My expectations are suitably low. But, as the French CEO I used to work for liked to remind me over (and over again): price is notta da point! He would then proceed to buy the most expensive bottle at Zibibbo in Palo Alto. Not that I'm complaining. Just observing.
Chuck got the heave-ho a long time ago. I find the stuff undrinkable. Really, really bad. It wasn't always that way. In 1998 when I first moved to Silicon Valley I thought it was quite decent — so too, a six-pack of tall boys. Trips to Napa and Sonoma over the years slowly refined my palette. Or maybe it was just a matter of maturity. The jury is still out. I should note that I'm no means bound by price either. Two of my favorite finds in recent memory at TJ's were both under $10. One was an Alexander & Fitch (yes, really!). It was an '04 Cab, for only $5. Follow-on vintages were poor, unfortunately, with lots of chalk, and nothing could regain the former glory that I occasionally enjoyed for about eight months. Then there is the perennial Riesling by Chateau Ste. Michelle. For only $6.99 it's a steal, and I routinely pick-up a few bottles for casual BBQ-style affairs.
But, back to Three Wishes. I'll put the three bottles to the test shortly and report back. Meantime…
In their review, SF Weekly had one of my favorite lines: "I'd rather just chew the two dollar bills directly."
When I wrote on Facebook about my visit to Whole Foods and the "Chuck the Chuck" marketing effort, an old High School buddy wrote: "$2 a bottle?! And that is with a markup. Would one use this for stripping furniture? It's probably made in San Quentin Prison from fruit cocktail squeezed through dirty socks."