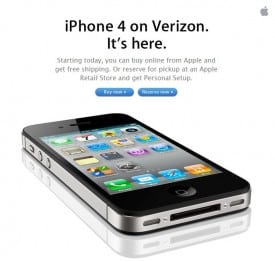 Yes, kids, it's here. That day has arrived. The Apple iPhone 4 is no longer the exclusive domain of AT&T. And for many people that is reason to do jumping jacks all day. As of today you can now order a Verizon iPhone (only in black for now) from the Apple web site, or reserve one to pick up at an Apple store on February 10 — where you'll probably break down and walk out with a MacBook Air as well.
Pricing is identical on both AT&T and Verizon: $199 for 16GB, $299 for 32GB. As usual a two year contract is required which means if you buy one soon you'll be facing some serious upgrade envy this summer when iPhone 5 arrives. Decisions, decisions.
According RBC Capital Markets, Verizon and Apple could sell up to 1 million units in the first week, with sales for the year ending somewhere between 9 and 10 million units. Well, doesn't this era of post-exclusivity looks like nice and juicy to the world second most valuable company?
But all is not fun and games.
Early word has it the Verizon iPhone may suffer the same attena-gate deathgrip issue, the soap that we all loved tuning in to each morning last year. From iLounge: "In the course of conducting our standard suite of iPhone 4 performance tests, iLounge has discovered that the Verizon CDMA iPhone 4 suffers from signal attenuation problems similar to ones discovered in the original GSM version of the iPhone 4."
The big question is how this news will impact Android. Will consumers normally lining up to buy a Motorola Droid X or Samsung Fascinate for example be swayed by that high resolution retina display, FaceTime, and the seemingly infinite number of apps?