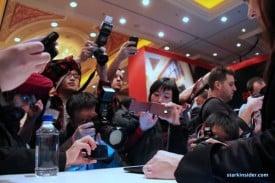 UPDATE: As expected, Google previewed Honeycomb with a detailed look at the new UI, widgets and applications, plus an extensive overview of developer tools. Also, the Android Market for Web is now open for business… read more at Engadget. But no Google Music. Not an earth-shattering announcement, more of an expected keep-up-with-Apple incremental move.
Good morning Silicon Valley! The big news today will yet again involve a little green robot. That would be Google Android and the media event today in Mountain View.
According to the invitation, we'll get an in-depth look at Honeycomb (the next major release of the mobile operating system), some "Android ecosystem news" and of course, hands-on demos.
Speculation is rampant (but of course) whether this will mean the tech giant will unveil new tablets, Google Music (an answer to Apple iTunes?), an updated version of Android (2.4?) or maybe even a revamped Google TV… well, maybe not that last one.
Honeycomb is generally regarded as critical to Google's tablet strategy. The Motorola Xoom, for example, is just one of many tablets announced at CES that will run on the new OS. Given Apple's dominance with its refined touch-screen based tablet OS (beget by iPhone), a lot is riding on the new interface.
In addition, the smartphone market continues to heat up. According to Nielsen's latest report, RIM BlackBerry, Apple iPhone, and Google Android are tied at approximately 27% market share apiece.
For those unable to attend, the event will stream live at the channel that is known as Jersey Shore for the geek set: youtube.com/android.