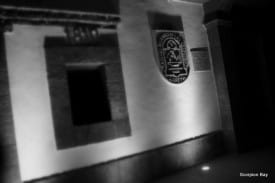 The adventure continues…
Calle Hidalgo was a mess. The torrential rain had created a minefield of puddles, car exhaust hung in the air and piles of dirt here and there made for a bit of a construction maze. Looking down the street towards the Malecon and the Sea of Cortez right behind it, I could barely make out palms blowing violently in the wicked Baja wind.
As I hobbled out of Mike's Bar the pain from the hip pointer was thankfully subdued by the Tecate, and maybe even a shooter or two, although it was hard to remember. My mind was racing: what exactly had happened to the Loreto Bay dream that we had so merrily jumped into years earlier?
On this foggy, rainy, miserable evening I felt like a stranger in a strange land. Of all the places we could be right now — sushi in Vancouver, wine in Napa, oysters in Bodega Bay — we had to be here in this dust-up being antagonized by a crazy man named Cortez. Why? And what was it with Scorpion Bay and the mystery that kept relenting?
I'll be the first to admit what we do on the Stark Insider web site is often whimsical and focused on the good life. "All Things West Coast," we say. I cringe too sometimes and might even agree that it propagates the American dream with a pinch of the superficial. But to hell with all them I'm thinking as I begin walking to the shopping district on the lookout for my little chica, Loni. If you want something, work hard for it. Loni would remind me, though, on more than one occasion, that people don't care how much effort it takes to build something on the web from scratch, to doggedly try to break new ground. For better or worse, I would remind myself, it's all about perception. This wasn't just about a PowerPoint presentation or something that would fade into Silicon Valley obscurity. Obstinate, yes. Probably childish too. And the exposure could bring risk too as I learned from my experience building a home in Loreto.
Sure enough, Andres follows me, only stopping momentarily for quick drags from his cigarrillos. Clandestine this would not be, whatever this was all about.
He tailed me by about thirty feet or so, ducking into nearby overhangs for shelter from the storm — underneath Baja Books, then around the corner at Cafe Latte — but always watching my every move. At this point I wasn't so much scared or nervous as I was annoyed and frustrated. The little town of Loreto could reveal disparate sides to itself. For the tourists: sunny, charming and historic. For those with hockey injuries and buyer's remorse: dark, benevolent, and devious.
Andres, this so-called lookout for Cortez, was lanky and maybe even slightly effeminate so I felt somewhat confident I could properly defend myself should the need arise. Not that I was a "fighter" by any means.
I recalled growing up on the frozen streets of Ottawa in the 1980's. Standing at a bus stop next to a small strip mall with the always popular "Mister Arcade," my larger and tougher friends were being drafted into the NHL. Mike Eastwood, who played ball hockey at the tennis court with us at lunch hour at Ridgemont High School, would be selected by the Toronto Maple Leafs in 1987. Funny, I always thought he was a tad slow.
But who am I to say?
There I stood, with a clarinet case in hand, at a bus stop on Bank Street, snow blinding my vision, pursuing a different kind of dream: Benny Goodman. Fueled by a loving Mom, I would practice arpeggios and take a grade two music exam while frightened beyond belief. You see, it was the typical crossroads that many of us Canadian kids faced: the NHL versus the clarinet.
By the time I had limped past Loreto City Hall, its sixteenth century architecture and time-worn, off-white paint resembling a set piece from a 1960's television serial shot in Arizona, I had devised a simple idea. I would attempt to shake Andres. What do I have to lose, I thought. Then again, Loreto, with a population of about 10,000, was not exactly San Francisco, so it would take more than a papaya-sized serving of creativity to lose the surveillance.
I quickly glance back and see Andres dart underneath the awning of a local bank, most likely for another puff from his cigarette. To my right is a small entrance to "La Misión." Carved in stone I could see a stairway within an expansive courtyard beyond, no doubt of historic significance.
So this would be it. Loni would shop, and I would play hide-and-seek.
I bolt for the doorway. The left side of my body flares in pain. Oh yeah, hip pointer … not so much fun. Yet, still, I'm half grimacing and half smiling. Who would've thought I'd end up here some four years after signing a contract to build a Loreto Bay home? Loni's words echo in my mind, "it will be an amazing adventure!" Words of wisdom, Lloyd, words of wisdom.
When I make it through the doorway, I see a stone staircase to my right. Fantastically, despite the epic storm, a group of musicians are apparently performing some sort of concert in the courtyard, oblivious to the meteorological mayhem happening around them. The sound is magical, and for a split second, the symphonic recital transcends. My nerves are momentarily relieved; bliss is served. It's one of life's unforgettable moments, the kind when you want to pinch yourself. Is this genuinely for real? How did I end up trying to evade some gangly teen named Andres, a supposed lookout for Cortez who apparently believes I have some role to play in the Scorpion Bay project?
SCORPION BAY

Next episode: Coming Sunday, January 16!

Previous episode: Scorpion Bay – Episode 4 "Money follows pretty"

* Some names have been changed to protect the innocent, and possibly even the not so innocent. I continue to go by "I."

Inspired by true events.