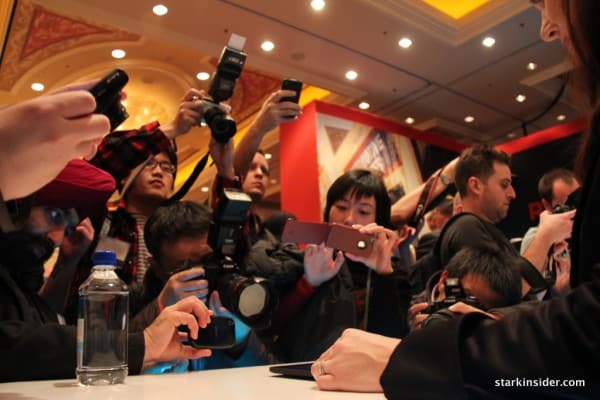 Press day at CES came to a close with a rock concert-like atmosphere for a pre-conference keynote by Microsoft CEO Steve Ballmer. But one of the oddest bits of trivia perhaps came earlier. At the end of a highly successful and impressive press conference by Motorola (Cliq 2, Droid Bionic, Xoom tablet), Team Moto handed out a 10″ zippered sleeve… all fine and good, but I wondered what exactly folks streaming out past the demo stations would store in there? The only thing that came to mind: an Apple iPad (the Xoom won't ship until later this quarter).
And such is the score so far at CES; despite the eagerness — giddiness even — no one is quite ready to challenge the iPad.
Motorola along with Samsung, however, are innovating like mad.
Samsung announced some sleek new Android offerings (Infuse 4G, Galaxy Player) in addition to TV technology (smart HDTVs) that are truly pushing the envelope.
Motorola meanwhile — besides delivering a no-nonsense, compelling press conference — is trying to change mobile computing as we know it, and I have to say the early results are intriguing. The new Atrix 4G, for instance, once docked can provide a full-desktop browsing experience (via "webtop"), and can be paired up with a keyboard and mouse. In essence, the smartphone becomes a powerful traveling transformer, one second an easily pocketable device, the next a full blown computer.
Yes, it seems at CES 2011, you can have your cake and eat it too.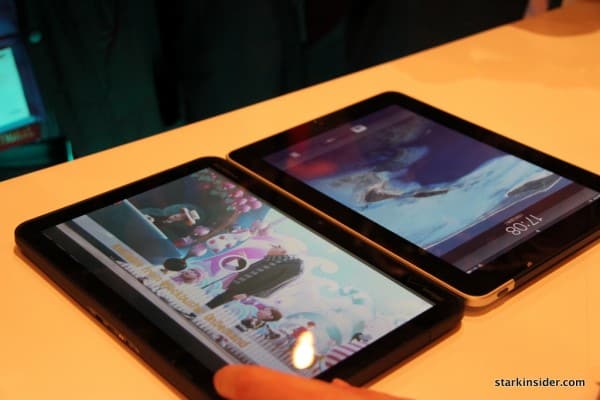 The big ticket, however, is the Motorola Xoom tablet.
First, the good news: it's a slick piece of kit, running Android 3.0 (Honeycomb), sporting expansion slots, and oozing just enough sex appeal to perhaps woo would-be iPad buyers. But, the bad news: no date was announced for availability, aside from the assurance it would hit sometime in Q1, with the 4G version to follow in Q2 (although it was unclear if it can be upgraded via software).
After the press conference (which was jammed to the hilt), a curtain dropped behind us, and we were invited to check out the new Moto offerings. Now, I've seen buzz before. We've interviewed James Franco, Ed Norton and Danny Boyle, among others here for Stark Insider, but I"ve never witnessed such media euphoria before. All for a small tablet device running Android. Wow. Think tablets aren't a big story, witness the frenzy that is Xoom. Whether or not that translates into sales success is entirely a different story. Given the surprise success of the Samsung Galaxy Tab and I think the odds are invariably high it will sell well, eventually.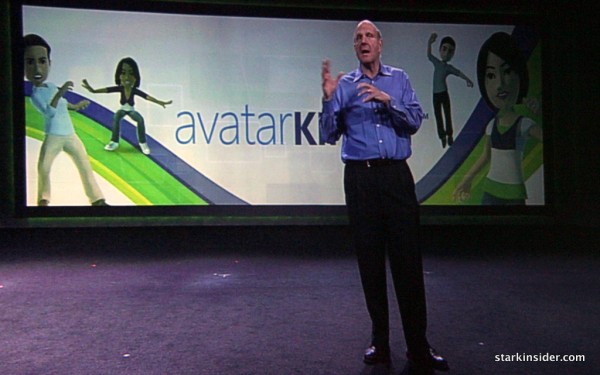 Apple iPad has at least a 12 month head start. Possibly 18 months by the time Samsung and Motorola get their new tablets out the door — albeit, a lot of this is riding on Android 3.0 which is slow in arriving. So while I expect Android tablets to compete, just like Android smartphones it will take at least another cycle before the exponential growth begins.
Contrast the innovation coming out of the Samsung and Motorola camps with the re-run that was the Microsoft keynote just hours later at the Las Vegas Hilton. Ballmer gave us nothing, even though his Avatar-likeness in a promotional bit was oddly entertaining (you take what you can get here when surrounded by the technorati).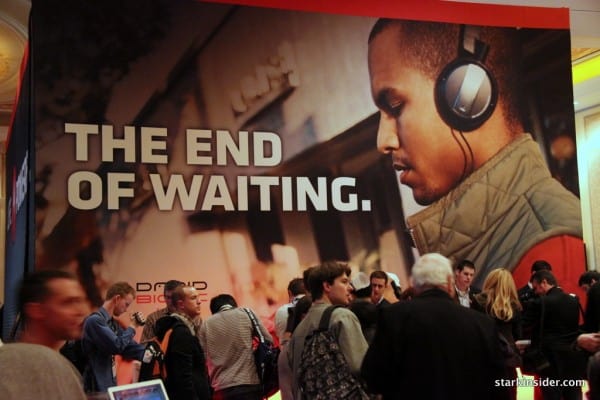 Quite bizarre that MSFT now is really a gaming and entertainment company; something they excel at (e.g. the new ESPN partnership that combines live games with social networking). Which begs the question: should MSFT be broken up into separate operating companies?
XBOX as a brand is huge. No doubt, a massive success. But everything else that Ballmer brought onto stage tonight was an example of style over substance. As slick as it is, did we really need a Windows Phone 7 demo? CES is really about vision, and runway, not the rear view mirror.
It was a little bit of a rope-a-dope perhaps. Yet, while we were seduced by AvatarKinect and WP7 multimedia, it was hard not to notice the glaring omissions. Where is the Microsoft tablet OS? Where is Windows 8? TV?
So far CES is all Android.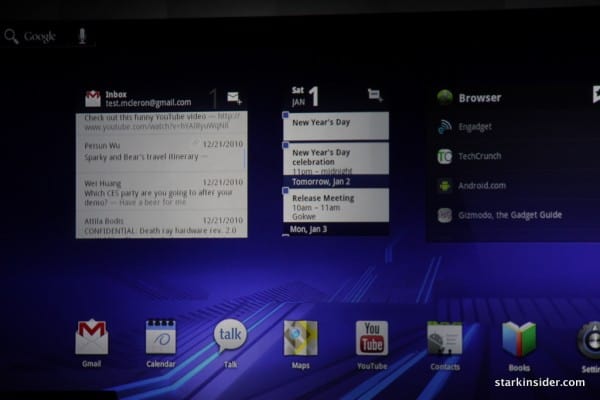 Apple may have something to say about that tomorrow. Rumor has it the Mac store will launch. Just in time for the opening day of CES here in Vegas.
Welcome to the Golden Age of tech.