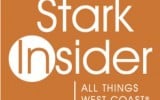 Prediction: this time next week the word "tablet" will make you queasy. As we've mentioned before, there are over 70 80 of them lined up ready to debut at CES this week in Las Vegas. I'm also quite certain that the story — that tablets are the future of computing — will continue to grab more than its fair share of headlines throughout the year, which is not necessarily a bad thing considering they've thankfully killed the sad and underpowered netbook. Will any of them be suave enough, though, to take on the Apple iPad (already rounding 2nd base with an updated model in the next month or so)?
But CES is a big show — just ask any of the 125,000 people who plan to attend this year — and with over 1.4M square feet of exhibit space you can bet there are lots of other interesting products around the halls of the LV Convention Center and Venetian.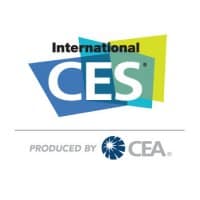 The deluge of CES-related vendor marketing has begun in earnest… over the past few weeks we've received a barrage of emails from vendors who are able to blast out to the press and others in advance of the show. From an exposure perspective, it can be a pretty sweet deal for the smaller companies.
So here are some of the interesting things, be they terribly useful or not, that have come across our desks. Just remember, this is the "other than tablets" list. And also remember if you're going to CES: wear comfortable shoes, drink lots of water – it's a marathon and you'll still want to be awake and standing for those late-night sessions, and, try not to feed the animals.
Xi3 Modular Computer (booth #26527)
With a name perhaps only an engineer could love, the Xi3 promises a "new approach to personal computing." I'm not so sure what exactly they mean by that, but it sounds interesting. Is this the answer to the iPad?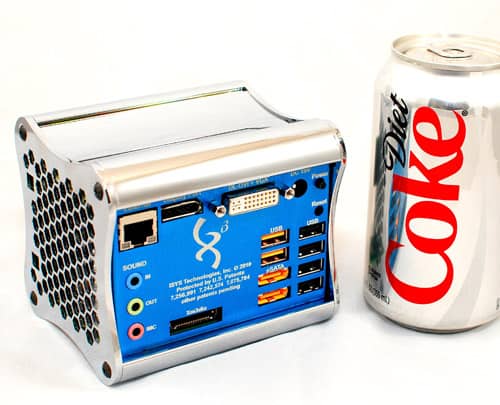 It costs $849 and will ship in early 2011 with some availability today for proof-of-concept purposes. It's amazingly small, even looks somewhat like a shrunken Apple Mac cube, well until you see the old school purple/pink/green audio connectors at rear. The secret sauce is the Xm3dia bus which allows for scalability — think super-computing via daisy chaining. Okay… you can see why tablets get all the attention.
"Find Me" Demo – No more lost remotes – the GREEN remote (booth # not provided)
How about a remote that only needs its battery changed every 10 years? Sounds mildly interesting, although I'm no exactly sure any of us heading to CES are the key demographic for the "Find Me" button that makes a lost remote hoot & holler. I could be wrong.
More confusing is this coming from GreenPeak Technologies, a fabless semiconductor company. Their branding and messaging is at odds, just a tad.
ION Audio (booth #12638)
Okay this seems better. ION unveiled a dual lens video recorder called (inexplicably) COZ-E back at CES 2010. What will they announce this year… ? Not sure, the e-mail from their PR agency didn't say, but will swing by and see next week.
iPod/iPhone sound dock with a built in Pico projector (Optoma booth #20532)
Docking stations are saturation city. For good reason I think: they're handy devices and bring utility to a device that would otherwise sit idle, recharging. But this does look somewhat unique… in fact, I don't think a product exists out there today with a built in projector?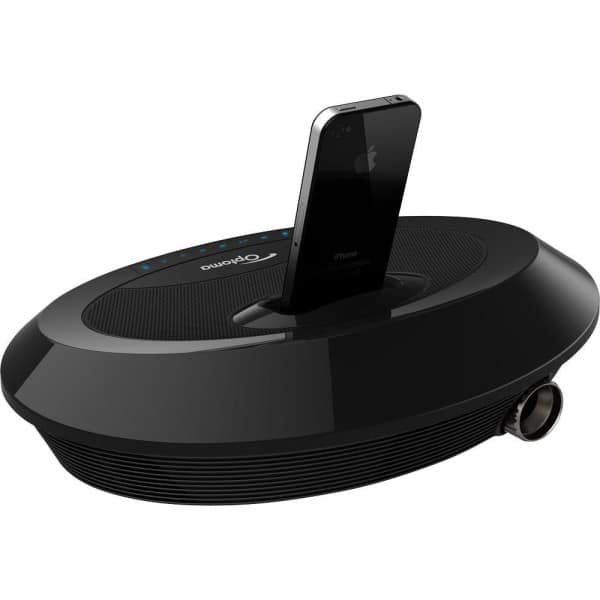 Neo-i is "the first combination iPod/iPhone sound dock with a built in Pico projector.  So anyone with an Apple product has a plug and play option to turn movies, videos and still images into a small home theater presentation.  And with a 16-watt stereo system built in, there is plenty of robust audio to complement any video." The Neo-i also has HDMI, VGA and composite video inputs, so you can easily connect almost any computer, Blu-ray player or even AppleTV.
Portable Solar Power for $100 (JOOS Orange booth #1035J)
When you're out walking the vines in Napa Valley and can't get to an outlet, here's the next best thing: your own solar panel. It can charge up to 4 smartphones on a single charge via USB and includes a variety of adapter tips (micro/mini USB, iPhone, iPad, etc.)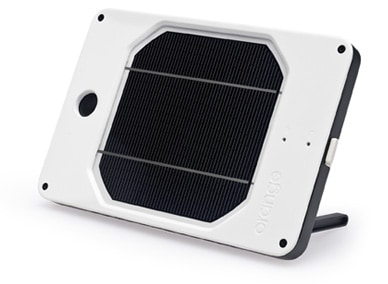 UWaterG2 (Fitness Technologies booth #3130)
The name says it all, no? Well, maybe not; why stick just a lower case "i" in front of your product name when you can bookend it? Regardless, if you want to rock out under water, here's your MP3 player of choice. Available in 2/4/8GB models and starting at $59, it can go as deep as 3 meters (10 feet), after which it begins to loop the Beach Boys until resurfaced.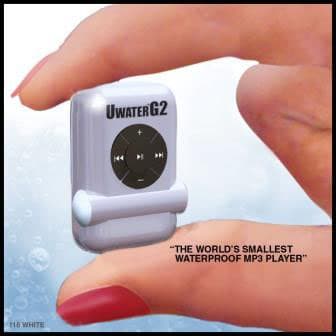 Baby Canceling Headphones (Sennheiser booth #20931)
Travel is so much better when you can cancel out the noise. I have a pair of Bose headphones, and they make all the difference even on short haul flights.
Sennheiser will be demoing their PX 360 collapsible headphones ($199).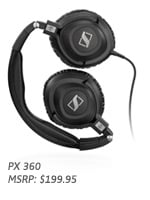 Also at their booth: an autograph session with NFL legend and ESPN personality Lomas Brown (Saturday, 1pm) and break-dancing performances (true story!) by The Amazin' Jerks (Thursday, Friday and Saturday 11am/2pm/4pm).
Otterbox "Device Protection" (booth #30351 and #42410)
Because the world can always use another case or two. I've never seen an Otterbox (let alone an Otter, come to think of it), but judging by their photos, they don't look half bad.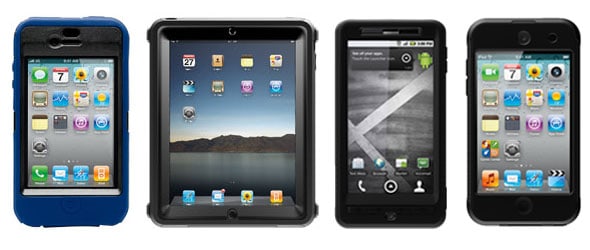 Otterbox cases are available for iPhone 4, iPad, DROID X by Motorola, iPod touch 4th gen and others.
"FIX" Earbuds by Skullcandy (booth # not provided)
Love the company name, "Skullcandy." They're announcing the "FIX" earbuds which they claim will solve the issue of ill-fitting in-ear headphones. How, I'm not sure… worth checking out. $69.95.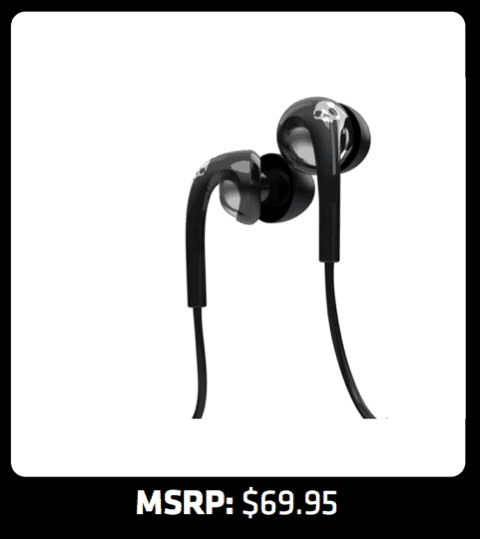 Wireless Streaming for Android (HSTi booth #35879)
With more of carrying smartphones loaded up with video, photos and music, here's a simple product that allows you to stream that content to a media player. It costs $119.95 so it's a steep price for the casual consumer. Plus I have to wonder why built-in wi-fi doesn't suffice? It does for my Droid…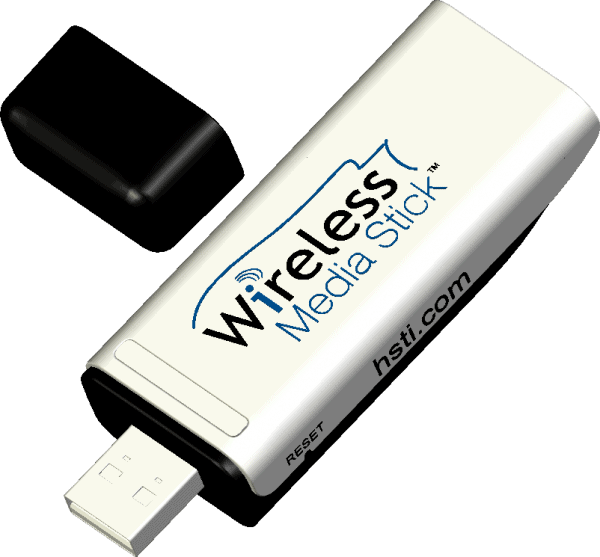 HD Cameras for the Adventure Seeker (Liquid Image booth #30538)
Priced from $99-400 Liquid Image makes HD cameras for the active set looking to document their adventure in HD. I'm not sure how well perform, but they look well designed — it sure beats wearing a webcam on your head next to the beer reservoir.