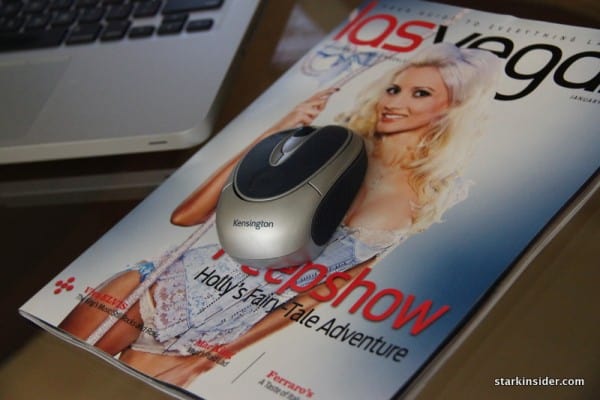 In Las Vegas Hooters is more than just a restaurant. It's a hotel. And women apparently love machine guns. These are but two of my first impressions of a Vegas that has now — thankfully — tilted itself back to an adult version (Palms, Wynn), echoing the founders' original vision and away from the efforts of the 1990s to mimic Disneyland (Excalibur, Treasure Island).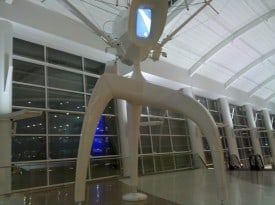 I'm not exactly a Hard Rock kind of guy so my trips to Vegas in recent years, this time for the Consumer Electronics Show (CES) with Team Stark Insider, are laser focused on the tast at hand. Well, almost. A little pre-show levity certainly helps one get in the swing of things, and brace for the inevitable information and visual overload to follow as some 2,500 exhibitors — including Sony, Samsung, Cisco, Motorola, Microsoft, HTC and LG — descend upon sin city.
Having run marketing teams in Silicon Valley for some 17 years I'm familiar with the refrain of the massive trade show. I've held a launch or two here. One year we were tucked way, way back at a Customer Service software conference to unveil our new call center solution… next to a shoe conference.
In Vegas, comfortable shoes are a must.
Where's the show floor?
Through the casino.
Where's the restrooms?
Through the casino.
Where's Blue Man Group?
…well, you get the idea.
And forget about the Vegas of the Rat Pack. The main highway here is extremely built-up and very wide. It is not a leisurely walk. One of the best things to happen in recent years is the monorail. It will come in handy as we make our way to the Las Vegas Convention Center. Press events which start today, and are followed by an all day show and tell on Wednesday, take place mostly at the Venetian (one of my favorite hotels here).
A Game Plan is in Order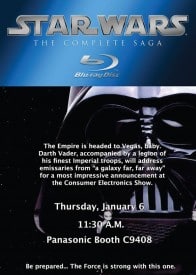 To cover CES you need to take a deep breath, and plan. It can be difficult enough to properly cover a single company's product launch, let along hundreds simultaneously.
When I landed this morning, I checked in, then reviewed my notes. Next I had to check the Stark Insider Google calendar and verify all the places we needed to be for briefings through Tue and Wed before the show opens on Thu and tens of thousands crowd the halls. Emails keep flooding us with "breakthroughs" "after-parties" and "press gifts."
Press Day
Wednesday is when you're likely to see the most news come out from the gadget and tech press. In case you hadn't heard Engadget is the official Blog partner of CES for the third year, so they remain a good place for the technorati. CNET, Slashgear, VentureBeat, are all hear, along with the usual bevy of mainstream media.
There are 16 scheduled briefings on press day including the who's who in tech.
The ones I'm really looking forward to include: LG, Intel, NVIDIA, Cisco, Samsung, Motorola, and Sony. Unfortunately the Sony press conference starts only 15 minutes after the end of Motorola which will mean a bunch of us will be making a quick dash for the shuttle to take us to the LVCC where Sony is holding court. The rest will be at the Venetian.
Dream Big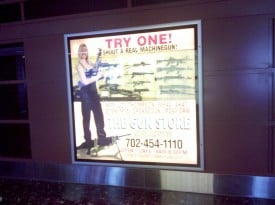 As you can imagine there are many, many parties. In fact you might even say CES is one big party. And like any big celebration the reality that sets in can be distinctly different than the euphoria that preceded it. Likewise, with CES there will be vaporware. The show is a massive marketing engine, and only a subset of what we see, touch and hear will ever hit retailers shelves — likely in the Spring and in the Fall. Still, there is no better barometer of where the consumer electronics industry is headed than CES.
On the flight into Vegas I was fortunate to sit next to Gary Oliverio, the CTO of CradlePoint, a maker of 3G/4G devices that extend and protect wireless networks. We reminisced a bit about how the industry had transformed. There was a time when Comdex was King, it was all about the enterprise. Businesses were the big fish. No doubt, they are still hugely important, but in the last decade the uber tech household has emerged: each of us with a smartphone, a desktop PC, several laptops and, now, perhaps even a tablet, or two. The Internet, and increasing the "cloud" is where we live, both for business and pleasure.
From an attendance perspective, CES is not expected to match the 150,000 high of 2006. And that's a good thing. We need some space to jump up and down, spin around, and otherwise "test" new gadgets so we can broadcast our views and opinions to the outside world.
Apple Absent, But Still Here
Apple, of course, won't be here. They throw their own tremendously entertaining and successful launch events.
But, I assure you, they are still here.
You get the feeling that a giant Steve Jobs is snickering as he stares down just over Red Rock… iPad 2… iPhone 5…
And I'm off to the Venetian… Let the games begin.