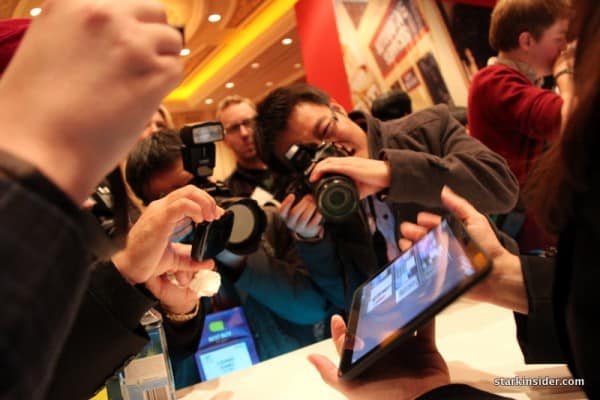 According to the Consumer Electronics Association (CEA), the 2011 edition of the Consumer Electronics Show (CES) drew over 140,000 industry professionals, a strong turnout and approximately 17% more than last year. Anecdotally, walking the show floor and attending press events earlier in the week I was convinced there was optimism hanging in the air. Certainly a lot of that had to do with tablets, and the never-ending announcements related to models that may or may not make it to retailers. But digging a little deeper reveals that perhaps the cautious euphoria might be the result of something more profound, economy notwithstanding.
And that is: the age of PC and laptop computing as we know it is clearly a thing of the past.
Not that they will disappear entirely, but there is a sense that we are entering a new age of mobile lifestyle computing. Data follows us. We connect on-the-go. Our lives become cloud-centric; we carry super-computers in the palms of our hands, capable of streaming 1080p video, running powerful applications, and processing videos and graphics at speeds thought impossible even just 18 months earlier.
Oh, yes, MSi, we still love your cute robotic vacuums, and I'm sure in some parallel universe there is a legitimate consumer need for a Lady GaGa goggle camera, but, man, mobility is indeed ruling the air.
Nevertheless, there were no true real "a-ha" moments last week in Las Vegas — I mean side from the fact that Holly Madison, one of Hugh Hefner's former Girls Next Door, now headlines her own Peepshow, literally.
Best in Show
Google Android is everywhere; in smartphones (which are increasingly getting larger displays) and in tablets. Gingerbread (2.3) is a refined and stable OS, while Honeycomb (3.0) looks to bring the UI to a whole new level.
Samsung is on a roll. Thanks to their Android embrace they, along with Motorola, are mounting the most substantial charge against Apple's iOS. No wonder they scored 37 CES Innovation Awards.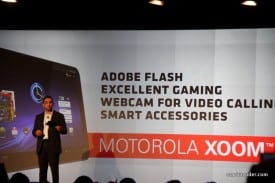 NVIDIA made the biggest, most surprising announcement of CES (possibly followed by Ford's unveiling of the Focus Electric). They will start building ARM-based microprocessors; it's a huge gambit. But it makes a lot of sense coming from a company who has been going toe-to-toe (successfully) against the likes of Intel and AMD for years. The problem for the latter companies is the playing field is changing dramatically, per the aforementioned move away from the traditional PC/laptop paradigm. Mobility is here, as are high performance graphics and video — NVIDIA's wheelhouse. Also: Tegra 2 is everywhere. Slashgear called it "a coming out party." I agree completely.
Motorola is also another company who is innovating and leading the charge in how we as consumers think about mobile computing. Case in point: Atrix 4G. The smartphone/laptop shell combo is absolutely unique. Granted it's not perfect. The shell (a keyboard and screen) is 2.5 pounds which is about the same as a MacBook Air and many thin-and-light laptops. So why not continue to carry your smartphone and a powerful notebook? Still, this is a harbinger of things to come; it drew lots of attention at their press conference. Xoom of course was a headline grabber. I liked it. Decent enough (although hard to truly say as their hands-on models were running Quicktime videos, not the real Android 3.0/Honeycomb OS). But the game is not about speeds-and-feeds. It's about the user experience. Based on early looks, Honeycomb is looking mighty hot. Apple, however, has at least a twelve month head-start and will be announcing their 2nd gen iPad when these things hit the market, so good-enough is probably not good-enough. Prediction: nevertheless, within 2-3 years, just like smartphones, Android will command almost 50% market share in tablet OS devices.
Yes, the BlackBerry PlayBook 7-inch tablet impresses with its QNX-based user interface. It's fast, employs enough Minority Report wizardry to stay relevant, and is backed by RIM, traditionally one of IT's favorite vendors. Yes, they scored points with a strong showing (and a dark, swanky booth). But there are some rough waters ahead. Namely, Apple and Android. BlackBerry is a tough sale for consumers, who lust after sexiness, lots of apps, and je ne sais quoi. Also note: 7-inches is too small for a real tablet experience, at least in my opinion. You really need 10-inches to make those digital magazine apps sing, for example, or to provide enough real estate to make stellar next-gen social media apps like Flipboard practical.
Ford Focus Electric. Interesting they chose CES and not the Detroit's North American International Auto Show to launch. Slick design, with lots of tech; a consumer device on 4 wheels. But 100 mile range will limit its appeal to Euro-style city dwellers.
Apple, once again, was omnipresent, yet famously non-present. First they announced the Mac App Store on Thursday, the opening day of CES. Then the rumor mill went into hyper-drive when they sent out invites for a NYC announcement, no doubt to announced iPhone on Verizon. And there is that little thing called iPad 2. And let's face it, if iPad (the original model from February 2010) was launched at this year's CES it would be the best in show. It's that good. Apple's design and user experience is simply unparalleled… so far.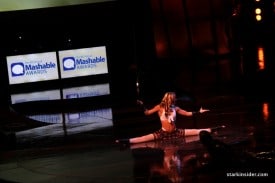 Mashable Awards at Zumanity, NY NY. Lively show, ample amounts of humor (albeit high on the geek index… "Best Mobile Game… Angry Birds!!" "Yeah, Angry Birds!!" "Wooo Hooo") and some good old Vegas sex appeal made for a successful celebration and award show. And count me as one of the last remaining people on earth who had no idea about Bed Intruder.
Booby Prizes
If I was scoring Microsoft on the XBOX 360 and Kinect, alone, they'd get a best in show star… easily. Who knew Microsoft would become the new Sega, and Apple would become the new Microsoft/IBM. Are you with me? But, unfortunately, we expect a whole lot more from the once legendary tech company. Ballmer delivered an underwhelming keynote with no announcements worthy of any excitement — gaming aside. Surface, a large table-top touch screen, is a niche application. Where was Windows 8? Where was the MSFT-powered tablets (aside from those running the shoe-horned, and non-optimized for mobile Windows 7)? And Windows Phone 7 is quickly becoming a punch line, despite some decent reviews. MSFT needs to do better. Ballmer must go — this is a new time, a new era. The next generation of companies are run by twenty-somethings. The world is mobile. It's in the cloud, not the shrink wrap $500 office suite. Okay, yes, admittedly, Microsoft has a strong enterprise business. And they have an amazing gaming business. So spin it all off and re-invent the company. There's still innovation and some smart minds in Redmond, but the company is faltering in some key strategic areas.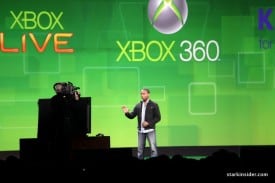 Lenovo. Are you kidding me? The Hybrid U1 looked really clunky to my eyes (but I like the idea!). And their Win7 tablet devices replete with styli brought on a wave of 1990s nostalgia. Weak. LePad was bland, and nothing about it was unique. Still, I expect Lenovo to be a significant tablet player… eventually. They've done well in the consumer space with a wide rage of notebooks, netbooks and desktop offerings.
HP. What? Where? When? Note: they do have a press event coming up, presumably to announce a WebOS-based tablet. But who do they think they are, Apple?
3D TV, in general, is like the guy who stays too long at your cocktail party, walking around double-fisted and telling stories about his great uncle. It was deja vu all over again. Glasses-free 3D was pretty much a joke. And why do consumers want their stellar HD picture degraded? Granted video games will be fun in 3D as will certain Hollywood action films. In 2011, 3D TV is a check-box feature not the game changer the industry hoped for.
Tablets that want to be notebooks. Laptops are dead, long-live the laptop! It's true. I do want an all-in-one tablet/laptop. But I do find it ironic that ever since the tablet came out, enthusiasts alike have tried incessantly to find ways to turn it into, well… a laptop. Add a keyboard. Add a mouse. Add a clamshell case. Yes, folks, let's just all agree the laptop is a timeless design. I do agree we want more from them, though, and the tablet is just a way of giving us really slick and flexible on-the-go computing options that we've wanted for years.