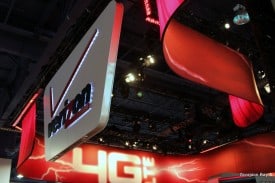 It's hard to call this morning's announcement news really. The media and dissatisfied AT&T customers across the land had pretty much figured out that we'd hear that the Apple iPhone was coming  to Verizon. And so we did. Pre-orders begin for existing Verizon customers on Feb. 3 and for everyone else on Feb. 10. Pricing will match AT&T — $199 for 16GB, $299 for 32GB with two-year contract.
So far markets are ambivalent; AT&T is down 1.7%, as is Vodafone (Verizon's parent) and Apple is down about a quarter point.
Now that AT&T's five year exclusivity is coming to an end, however, the real questions begin.
Who will it hurt most, AT&T or Google (Android)?
When I purchased a Motorola Droid on Verizon back in November 2009, my only real alternative in the store at the time was BlackBerry — Verizon was the land of Android smartphones. But Google's Android was already hot then and Moto had nailed the hardware design, so it was an easy pick: trusty Droid. Now that decision might not be so simple, for me and tens of thousands of others signing up for new contracts. With the Apple iPhone 4, Android faces a battle royale. So it will be very interesting to see if Android growth takes a hit.
Will Verizon's network be able to absorb the predicted influx of new data-heavy iPhone users?
AT&T's network quality is notoriously spotty, and the company has spend billions in upgrades. Still, it is the brunt of more dropped call jokes than Alexander Graham Bell could ever have imagined. It's unclear yet whether Verizon will cap data plans for iPhone customers. With video conferencing via FaceTime, video streaming, high-res photo sharing, web surfing, and other high bandwidth uses, it could put significant load on Verizon's network.
Is the smartphone market about to go through a transformation?
With the age of iPhone exclusivity behind us, a new chapter begins. Apple iOS and Google Android have emerged as the leaders in the race for smartphone supremacy. BlackBerry's fortunes have faded, although it's still a force, with a strong base of business customers. Laggards such as Microsoft (Windows Phone 7) and HP (WebOS) appear to be niche players at this point, unless some incredible strategy changes that in the coming years. So it's the closed system (iOS) vs. the open system (Android). Both have masses of developers which is essential in this app-hungry world. I doubt anyone even twenty four months ago could've predicted the level of success Google is having with Android. Will Facebook enter the fray? Can Nokia mount a renewed North American offensive?
So then, what next…?