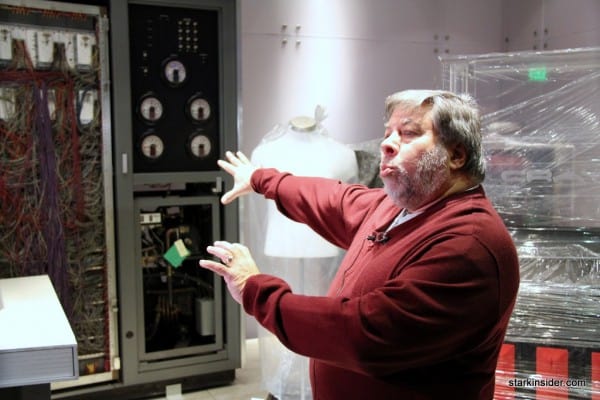 Steve Wozniak was an inspired choice to host a media preview yesterday of the new $19 million renovation at the Computer History Museum here in the heart of Silicon Valley. Who else but the well respected — revered — co-founder of Apple computer could better suit the occasion? It was my first time meeting the legend. Shaking his hand I was reminded of Christopher Walken in The Dead Zone. The stories, the inventions, the genius reverberated through my body.
But it was like talking to an old college buddy.
"I have this scratchy throat," Woz tells me, while nursing a coffee. "To work on computers you have to work late, there's always another bug to fix… something's always broken."
I agree and tell him that it never ends, and he responds enthusiastically "Yes, that's right, it never ends!"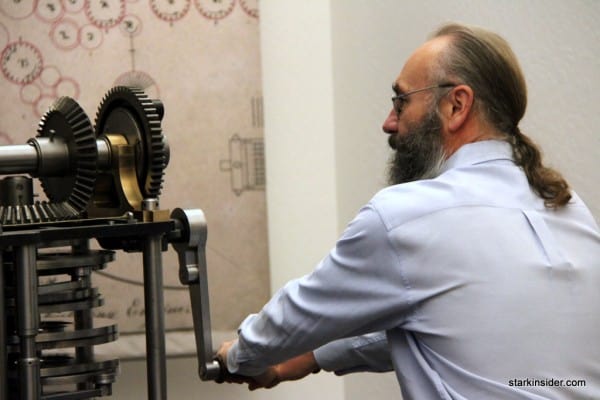 Fortunately for Wozniak, who is credited with some of the most profound and impactful breakthroughs in personal computing history, we're living through the golden age of technology, and it doesn't appear to be ending anytime soon. He seems pretty darn giddy about it. So much so that it brings out my inner nerd; I have flashbacks and see myself installing a CPM card into an Apple ][ sitting on my parent's dining room table in Ottawa.
My adrenaline is amped. I'm soaking up everything he's telling us as he takes us on a tour of the new exhibition Revolution: The First 2000 Years of Computing which opens to the public on January 11, 2011. The exhibit is part of a "21st century makeover" that includes double the space, added research and education components, and vast new digital platform.
"Computing is so much a part of our lives today. It touches everything that we do," museum President & CEO John Hollar told Stark Insider. "And yet the people who are responsible for that are often unknown… the stories are so compelling."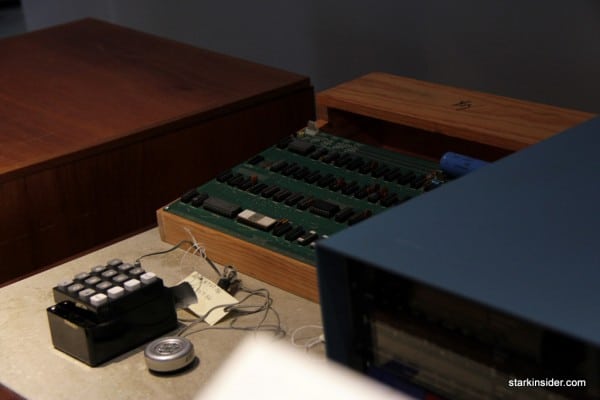 Woz had assembled a personal tour that included stops at some of his favorite artifacts of computing history, everything from a 026 punch card machine by IBM (1949) to a Seymour Cray supercomputer (1996). Amazingly the 12,000 items on display, according to Hollar, only represent 1% of the museum's collection.
Along the way, we see massive hard drives, an enigma machine, and wires, wires, wires. When we reach the 1980s, a reported from CNET would not let the Woz breeze past so quickly. "Can you pose here for photos?" he asked pointing to the Apple ][, the most famous of all personal computers. Sure enough, the ever willing and eager to please genius readily concurred.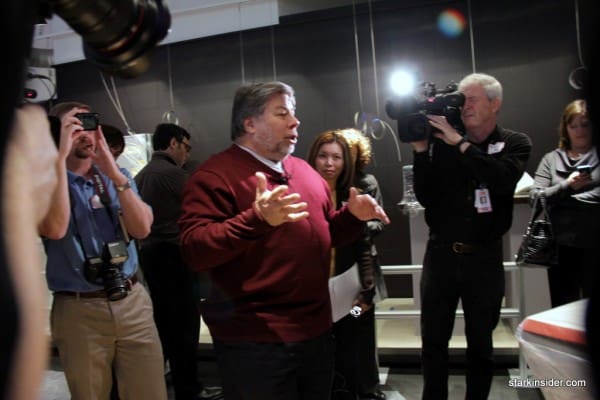 But before you know it, he can't resist. He's popping off the lid of the beige device, which to my eyes at least is still sleek today, even some 33 years after its release.
At the end of the tour, as part of an upcoming Stark Insider TV segment, Loni Kao interviewed the Woz and asked about his inspiration, Dancing with the Stars, and life outside of tech (is there really such a thing?). He was remarkably kind with his time. But the best part was the business card he handed Loni. I was surprised that he even had one. Don't we just beam Mount Olympus — "calling Woz!" Emailing or calling him feels so pedestrian. Remember this is a guy with "7 or 8" different GPS/communications devices on the windshield of his car, all "directing him to the same place."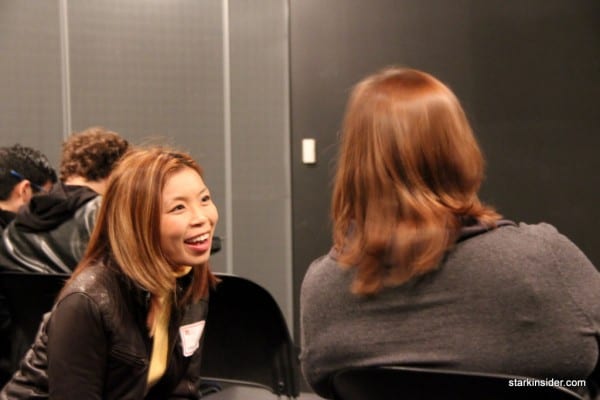 His business card and the lobby floor of the Computer History Museum have something in common. It's a little secret we learned from vice president of operations, Gary Matsushita. But I'll leave that puzzle for you to figure out. I'm guessing it won't require the enigma machine, but it's one more bit of cool geek (yes, I know, oxymoron) trivia.
An inspiring day, an inspiring place.
Woz' Personal Tour of Computer History

List of Key Artifacts

026 punch card machine IBM, US, 1949

Introduced in 1949, the "026" became the standard workhorse of the punched card office for over 15 years. Cards moved automatically from an input hopper, past the punching station, to an output hopper. As it punched holes for each column to be read by the machines, it also interpreted them for people by printing on the top of the card.

Stibitz one-bit Model K Adder (Replica), 1980

George Stibitz made the original version of this in 1936 on his kitchen table, hence "Model K." Using scrapped relays from Bell Labs and strips of metal from a tin can, it can add two binary digits. Stibitz himself built this replica.

IBM RAMAC actuator and disk stack, 1956

This is the heart of the world's first disk drive. It has 50 24″ disks that spin at 1,200 RPM and hold 5 million characters of information.

Control Data Corporation 6600 Supercomputer, 1964

Seymour Cray's CDC 6600 design was innovative and elegant. Almost 10 times faster than any computer ever devised, it stunned the computing community. Customers wrote their own applications, from simulating reconnaissance aircraft to university timesharing,

indexing libraries, and much more.

Seymour Cray – 1925 – 1996

"One of my guiding principles" observed Seymour Cray, "is, 'don't do anything that other people are doing."

Cray was a brilliant, soft-spoken computer designer who made a career of building the world's fastest computers, time and again. He preferred working in small teams, undisturbed by managers. Or better still, working alone at night, free from interruptions.

Data General-Nova Serial #1, 1969

This first Nova was shipped to Unitech in Austin, TX to be used in a system for Mobil Oil. It never arrived. Braniff airlines lost it. The computer was finally recovered two months later.

Honeywell Kitchen Computer, 1969

The Honeywell 316 minicomputer hidden inside the Kitchen Computer was the baby brother of the 516 computer that powered the first node of the ARPANET, predecessor to the Internet.

Regency TR-l Transistor Radio, 1954

The Regency TR-1 with four TI germanium transistors sold over 100,000 units and introduced the word "transistor" to the public.

Home Brew Computer Club, 1975-1986

When Steve Jobs and Steve Wozniak completed the Apple I, they didn't alert the media. They demonstrated it to their soul mates at the Homebrew Computer Club. The Homebrew Club-like similar clubs- was a forum for sharing ideas. It attracted hobbyists and those eager to experiment, many of whom became leaders in personal computing.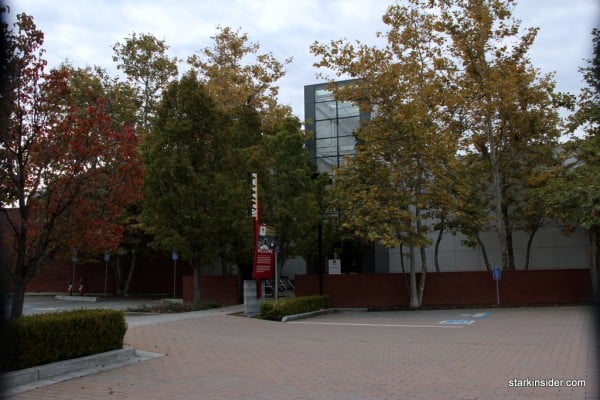 Computer History Museum: Project Fun Facts

25,000 sq. ft of new exhibition space – doubling the museum's previous
exhibition space
2,500 sq. ft. new education center with classrooms
4,500 sq. ft. of open gallery space
6,000 sq ft of terrazzo tile to create the world's largest punch card in the Museum's Lobby
13+ Miles of cabling for exhibit technology systems
37 Visitor interactive touch screens
67 Flat panel video displays
16 featured exhibition videos
5 Theaters with high-definition video
100 individual multi-media exhibition stations
100+ channels of Museum wide audio
74,980 lbs of white acrylic walls
1,200+ Lbs of bolts and hardware
18,000+ Lbs of aluminum for the wall frames which have 918 parts
As extensive as Revolution is, the onsite exhibit is only 2% of the CHM collection. The online exhibit shows 75% of the collection.
1,100 artifacts
83,600 words in text
5000+ images in the physical exhibit
2,000 years of computing history in 1 location