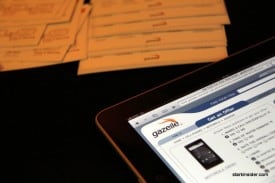 Hey "gadget freaks" and chronic upgraders (that would be me), trading in your old gadget — you know, the one that's at least two months old — just got a whole lot easier. Unlike services such as eBay and Craigslist, start-up Gazelle will allow you to trade-in your smartphone, computer or any number of tech devices in its database with just a few clicks on their web site.
Of course I immediately wanted to know what my "classic" Droid, purchased at a Verizon store in 2009 on launch day, was worth. I could use a Snapdragon processor and larger screen. Or maybe it's time to try an iPhone 4? But first, I needed to unload my trusty Droid.
Anthony Scarsella, Chief Gadget Officer, pulled up the Gazelle site on an iPad at the recent gdgt live conference here in San Francisco. In under a minute I had my answer: $105. For comparison I checked eBay. The average selling price there for the Droid is $168. However, there is no guarantee I could get that price. Also, I'd need to set-up an auction (or a Buy It Now) and wait it out. And don't forget there is a shipping expense on top of that. Which is better? It's a personal call.
If I wanted to seal the deal, I'd simply submit the order. Then Gazelle sends me shipping materials. I pack the phone (and since it's a CDMA service would need to deactivate it via Verizon first) and return it, and then I receive payment. Then, of course, the real fun begins: gadget upgrade nirvana.
Current Cash Value for Popular Smartphones

Motorola Droid
$105

Motorola Droid X
$263

Apple iPhone 3GS (16GB)
$160

Apple iPhone 4 (16GB) – for those thinking of going Android
$341

BlackBerry Bold 9700
$113

HTC T-Mobile Google G1
$62

HTC T-Mobile HD2
$134

Source: Gazelle.com / December 1, 2010

Note: Assumes no water damage, phone in "perfect" condition and all cables, CDs included.
There are many other interesting facets to this upgrade service. For one, it's a green way to recycle old, unused gadgets that you might have collecting dust in a drawer somewhere. For large companies, it can be a convenient way to refresh the work force with the latest models and potentially improve productivity.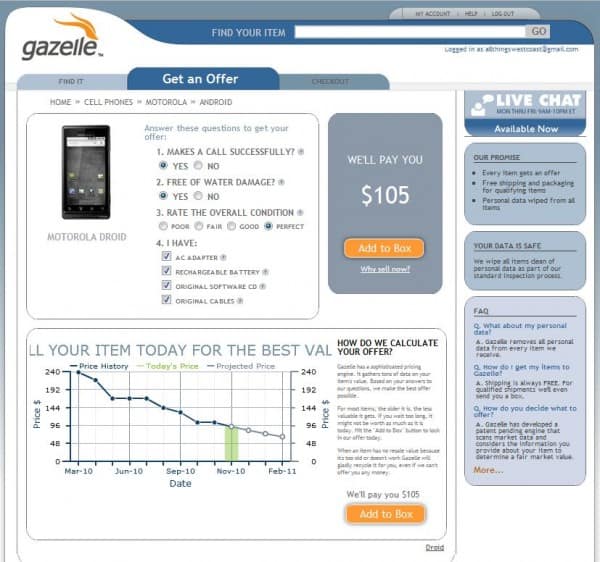 Easier than bake sales? I like the "Gazelle for Good" feature where you can select a cause and then raise funds for it with used gadgets.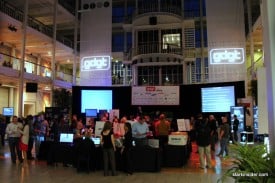 Since the Gazelle team has so much data around trade-ins, brands, models, and, even, demographics, they have amassed a sizable amount of market information. One piece that is revealed to users is a time/value graph that indicates the declining value of your gadget. Like selling a used car, you could use this information to potentially time the sell to maximize the value of the trade-in.
Would I use the service? Possibly. At the very least I consider it when looking at all the options available for unloading a used gadget. Regarding my original Droid, I won't be selling it anytime soon. It's been quite the workhorse, and despite the occasional reboot (mostly when I'm using it in navigation mode in the car) it's served me well in managing my businesses on-the-go. If you have the holiday itch — "how many old Nokias does it take to pay for a PlayStation Move? — then check them out over a gazelle.com.
Gazelle

61 North Beacon St
Boston, MA 02134
"It pays to be green"
www.gazelle.com

Investors: Venrock, Rockport Capital, Physic Ventures

President & CEO: Israel Ganot (rest of executive team)

Idea: Turning gadgets into cash in three steps. "The nation's largest reCommerce company"

Revealed: Over 40,000 consumers traded in their old Apple iPhones to Gazelle when the iPhone 4 was released.

Trending: Significant incoming BlackBerry smartphone volume.