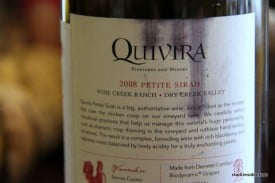 Like Quivira winemaker Hugh Chappelle suggests, this Petite Sirah could use another twelve to eighteen months in the bottle to "fully blossom." Still, I found this to be a solid representation of what this grape is capable of producing.
Warning: Zombie rules apply (Insta-Zombie: Concannon Petite Sirah packs flavor, ink).
Petite Sirah is not a date wine, unless you like purple teeth. But that's largely why I like it; bold, lots of blackberry and espresso. And there's a nice structure thanks to the acidity which never results in — over-used expression alert — flabbiness, that juice-like quality that results from lack of tannins.
Another common expression: chewy. When I think of this Quivira, I think chewy. The wine coats your teeth. You might also call it velvety. It's definitely not a spectator sport, but it's why I really enjoy Petite Sirah. For many palettes I'm guessing it's too much, hence the sales challenge in the US of this variety.
Dry Creek Valley in Sonoma is a good place to start when you're looking for a good Petite Sirah. A boutique winery (just 417 cases of this '08 were produced), this Quivira might be a challenge to find (start on their web site), but it's well worth seeking out.
2008 Quivira Petite Sirah
Quivira Vineyards and Winery
Dry Creek Valley, Sonoma County
Alc. 15.4%
18 months in French and American Oak
417 cases
88 pts.
$26
www.quivirawine.com