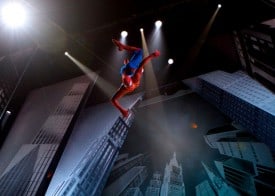 Spiderman hasn't had this much attention since Tobey Maguire inked a $15 million deal (plus 7.5% backend) for the bookend of the blockbuster trilogy based on the famous Marvel Comics superhero. Well, actually this would be the other Spidey. The one on Broadway. The one everyone has been talking about: Spider-Man: Turn Off the Dark, the $65 million musical that has experienced more false starts, drama, and injuries than even Lemony Snicket's The Composer is Dead now playing at Berkeley Rep.
In case you haven't heard, a stunt double, Christopher Tierney, was injured at a preview performance on Monday in New York when a stunt went wrong and he fell 30-feet to the stage floor. He was sent to the hospital with serious injuries raising all sorts of questions around safety, and generating heated remarks (via Facebook and Twitter of course) from many of the actors involved in the apparently cursed production. Once again the opening date has been pushed back, this time to February 7, as technical issues are resolved, not to mention the extra time it will require for organizers to meet with the Occupational Safety and Health Administration, Actors' Equity Association and New York State Department of Labor.
U2 is my favorite band of all-time. I'm pleased that they are investors in the project, and that their stellar talent (music and lyrics here by Bono and The Edge) will once again push boundaries in a new format (Macphisto would make for the perfect cameo, no?). But after watching some of the clips of the accident and reading about the production's woes over the past few months I began to think the show was looking less like Broadway, and more like Hollywood.
So it begs the question:
Is Broadway trying too hard to be like Hollywood?
No doubt, today's younger theater-goers are going to expect bigger, faster, stronger. Classic productions from an innocent time may not fill seats in an era of 140-character expression and social networking overload.
American Idiot is a great example of a new type of show that re-energized the marketplace for the stage thanks to a rock opera soundtrack courtesy of Green Day's masterpiece album American Idiot, and a highly stylized rapid fire presentation. With video games, streaming movies and television, and mobile devices, it's becoming harder for traditional theater to maintain its relevance in popular culture. And that's too bad. However, I wonder if huge effects, over-the-top stunts and devices normally employed in movies are the answer.
Ironically, U2 is no stranger to troubled productions; although they continue to be the proverbial Stranger in a Strange Land. Does anyone remember the televised opening of the PopMart tour in Las Vegas?
I realize I shouldn't get too carried away. The injury — which could happen on even the most benign of productions — and issues plaguing Spider-man don't necessarily mean the sky is falling.
As they say in show business, all news is good news. Or is it?