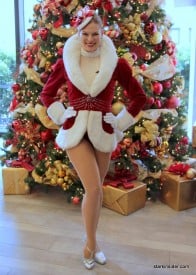 I'll never forget seeing The Rockettes at Radio City Music Hall as a young boy. I was about twelve, and just learning about the concept of legs. Going backstage was thrilling to me. Here I was in New York City, touring all the sights like Times Square (quite different back then), the Empire State Building, and the Statue of Liberty. I also saw 42nd Street on Broadway. The bright visuals and music are with me to this day. And The Rockettes? They were tall. And blonde. And pretty. Happy giants among us school children.
So when The Rockettes landed in the Bay Area to bring their annual Radio City Christmas Spectacular (Oakland and San Jose), I immediately wanted to know: Can my wife Loni kick it with the best of them?
She's tried to keep up with some of the biggest names in the world of dance and the performing arts, including Cirque du Soleil (OVO), choreographer Amanda Folena, and, most recently, with Cheryl Burke from Dancing with the Stars in a hip-shaking salsa lesson. Through it all, we've yet to have a meltdown or nary a kerfuffle. Minor disappointment for me, that.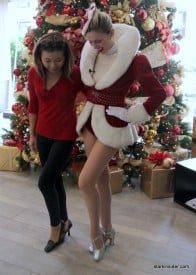 Heading over to meet The Rockettes I knew height would be a challenge for Loni (Radio City Rockettes must be between 5'6″ and 5'10 ½" and "radiant energy" is also required), but how on earth do they possible reach so high with their leg kicks? And what is that famous Rockette pose where you twist your leg?
Look, I admit, during this segment I had a ZZ Top song or two running through my head more than once. And Amanda Suchy and Vanessa McMahan, the two Rockettes we interview in this Stark Insider TV segment, kept asking me "Are you shooting my legs?" … "Did you want to shoot my legs?"
Yes, I thought, I could get used to this.
It's not often I have beautiful women asking me to pan up and down their bodies. Nice job perk, if you can get it. Later, of course I learned the reality. Holding the classic Rockette pose means essentially standing on one leg which quickly tires. Therefore it's a matter of timing.
The show itself — a touring arena production that takes 165 people to stage — stars 18 Radio City Rockettes, 1 Santa, 16 ensemble, 8 singers and 6 children.
A fan of tech and all things U2, I was interested to learn that the show features a 25 x 65′ LED screen, reportedly one of the largest LED screens to travel with a tour. It "transports the audience from a wintry landscape to Times Square to Santa's Workshop." I'm guessing, however, there will be no giant disco Lemon.
Being in Northern California, we don't always get a chance to "enjoy" snow (unless you're up in Tahoe or the mountains) so you'll be pleased to know that 3,300 pounds will fall on your head. Well, slight exaggeration. That's 3,300 pounds across the 19-city run.
So there you have it: spectacular song and dance, Christmas cheer, 300 colorful costumes (by Academy-Award winning film director Vincente Minnelli), and, yes… legs.
What a great way to kick-off the holiday season here in the Bay Area.
Radio City Christmas Spectacular starring The Rockettes

Thursday & Friday, December 16 & 17, Oracle Arena in Oakland – 4:30pm & 7:30pm each day;

Saturday & Sunday, December 18 & 19, HP Pavilion at San Jose – 4pm & 7pm (Saturday); 12pm, 3:30pm & 6:30pm (Sunday)