Napa Valley Film Festival (NVFF) organizers have announced that passes for the inaugural 2011 NVFF are now on sale, with discounted pricing available through December 31.
Showcasing the best of new independent cinema while embracing the epicurean pleasures of Napa Valley, NVFF will debut November 9-13, 2011 with a five-day festival spread over four of the valley's postcard-perfect towns.
"We're looking forward to bringing an incredible film festival experience to Napa Valley in 2011," said NVFF Co-Founder and Director Brenda Lhormer. "We held a highly successful Launch Celebration last month in Napa and St. Helena to provide the community and Bay Area film lovers a glimpse of what's to come in 2011."
To introduce the NVFF to filmmakers and the Bay Area community, the festival held a Launch Celebration in Napa and St. Helena (November 12-14, 2010). The event featured preview screenings of six new independent films, including: Blue Valentine, The King's Speech (interview with director Tom Hooper), Rabbit Hole (review), I AM, The Happy Poet, and Lifted (interview with star Uriah Shelton).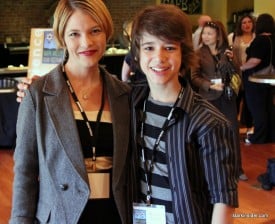 Guests also enjoyed Q & A sessions with visiting filmmakers, producers and cast members; wine-tastings before each film; and VIP dinners. Other highlights included a late-night after-party for 400 guests hosted by Oenotri and John Anthony Wine Lounge at Gordon Huether Gallery and a candid 45-minute Q & A session with Director Tom Shadyac (Bruce Almighty, Liar Liar, Patch Adams) after the Sunday screening of his thought-provoking documentary, I AM. The celebratory weekend was capped off with a VIP dinner at the renowned Morimoto restaurant in downtown Napa. Total attendance for the launch celebration was 1,750.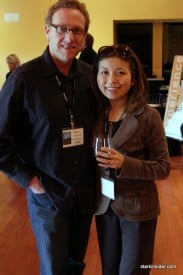 The inaugural 2011 NVFF will include more than 50 new films, including narrative features, foreign films, documentaries, short films, and student works. Discussion panels with industry executives, Q&A sessions with the filmmakers, food and wine tastings, opening and closing night parties, awards ceremonies, VIP receptions, and celebrity tribute programs are all key ingredients rounding out the full NVFF experience. NVFF will also feature a unique community-focused footprint, with screening and hospitality venues clustered in four walk-able villages in Napa Valley's distinctive small cities and towns: Napa, Yountville, St. Helena and Calistoga. Films and filmmakers will travel from village to village, while festival attendees can choose whether to remain immersed in one community or to sample the different venues.
"NVFF is seen as an important addition to the cultural calendar of the Napa Valley during the post-harvest shoulder season and will deliver a significant economic boost to hotels, restaurants, wineries and other retail establishments," commented Clay Gregory, CEO of the Napa Valley Destination Council. "The Valley is well positioned to support a festival of this scale – we have the infrastructure in place. Bringing together world-class accommodations, Michelin-starred restaurants and legendary wineries, the Napa Valley Film Festival can be a vehicle that blends all of our life-enriching assets together and attracts a diverse set of guests from across the country and around the globe."
Napa Valley Film Festival – Pass Options

Attendees will be able to experience the first annual NVFF with a variety of pass options. The basic Festival Pass provides access to all regular film screenings, panels, and wine tastings; the Pass Plus allows access to all film screenings, panels and wine tastings as well as the Opening Night Gala, Celebrity Tributes, Closing Night Awards Ceremony and Wrap Party. Also available are a limited number of Founding Patron Packages that offer a true VIP experience – priority line access to all films; hospitality lounges with complimentary wine and food between screenings; indulgent receptions and dinners with celebrities and filmmakers; and concierge services. Special early bird pricing is good through December 31, 2010.