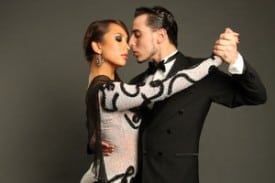 Sultry, sexy, smoldering. Take your pick, Forever Tango, now playing at the Marines' Memorial Theatre captures the authenticity of a Buenos Aires' lounge with ease, and brings us back in time to revisit the birth of this most passionate and visually stunning of dances.
Cheryl Burke, veteran of the television hit Dancing with the Stars is the headliner for this incarnation of the popular show which was last seen in San Francisco in 2004. Despite the headlines she actually doesn't dance much, and those coming to see her perform might be slightly disappointed. Tango, however, is an interesting opportunity to see Burke shed her ballroom gowns in favor of some Argentine-inspired costumes that are quite sumptuous; there we go with yet another 's' word.
In addition to Burke the cast features twelve dancers, all of whom I found highly skilled and captivating to watch. Some of the moves and timing will take your breath away.
Along the rear of the theatre on a riser is a highly energetic seven-person orchestra. The live music really helps underscore the power of this presentation, which pulsates with style and infectious rhythm.
My date for the evening, once again my doe-eyed wife Loni, leaned over mid-way and whispered that this must be what The Sopranos might look like if the crew were ever to assemble a musical unit. And, lest you think you know all about a crowd-pleasing theatrics thanks to Pete Townsends' raucous guitar windmills, be prepared to learn a thing or two about what it's like to rock out on an accordion (bandoneon). Hint: it's highly entertaining.
Pay close attention to that gentleman at the right rear, ripping wildly on his Cello. That would be Luis Bravo, the show's creator.
Tango does well to keep things moving swiftly. There are no monologues, filler or, even, attempts at theatrics. The dance is, thankfully, the thing, and the only thing. It serves the production well which establishes a vibrant pace that doesn't let up until the intermission some sixty minutes later.
For a show about dance, however, the stage does somewhat constrict the performer's room to move. The orchestra takes well over half of it, resulting in a narrow band in front that the dancers use, albeit effectively. It would've been nice to have some depth to the stage. Instead, at times it can feel a bit like a tennis match: dance to the left, back to the right, then left, right, etc. Also, by the end of the evening some of the dance numbers felt slightly repetitive, and the drone of the bandoneon reminded me too much of a vuvuzela.
While I'm not a huge fan of dance productions, it's pretty evident that this show won me over, and I enjoyed it more than I expected. For those that love the tango, are fans of Cheryl Burke or enjoy a thrilling and authentic experience should walk out of Forever Tango thoroughly entertained.
Buenos Aires, does indeed, tango into San Francisco's heart.
Luis Bravo's Forever Tango
3.5 out of 5 stars
Marines' Memorial Theatre
Starring Cheryl Burke of Dancing with the Stars
Created and Directed by Luis Bravo
Through January 11, 2011
www.marinesmemorialtheatre.com
Orchestra Director
Eduardo Miceli
Dancers
Victoria Galoto & Juan Paulo Horvath
Marcela Durán & Gaspar Godoy
Karina Piazza & Ezequiel López Hudyma
David Leguizamón & Vanesa Villalba
Tamara Bisceglia & Facundo Piñero
Sebastián Ripoll & Mariana Bojanich
Singer
Martín de León
Musicians
Bandoneons: Eduardo Miceli, Santos Maggi, Jorge Trivisonno
Violins: Rodion Boshoer
Viola: Alexander Sechkin
Cello: Luis Bravo
Bass: Héctor Pineda
Piano: Fernando Marzan