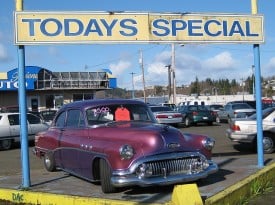 Greetings and salutations. The last day of tech of 2010, and here's the top headlines. But a quick aside. Take a deep breath, 2011 promises to be a real barn-burner, the likes of which has not been seen since, well, The Rolling Stones "started up" Windows '95. Remember that?
Everything in tech apparently is now worthy of late night talk shows (Jimmy Fallon), celebrity guffaws, and even mainstream news.
What hath we here?
Well, brace yourself as I know Clint and the Stark Insider team is soon descending upon CES. Meantime here is what you need to know on this day in the world of tech … one last time before the clock strikes midnight, and we all turn into a used cream-puff sitting on a dealer lot somewhere in Southeast Michigan.
Skype, now with video! I'm still not convinced we need to see each other when talking. Put the Chalupa down, young Jedi! I mean, if i wanted to really see you, I'd do what the rest of us do and install secret webcams.
Earlier this year Apple released FaceTime with much fanfare (available on iPhone, but not yet iPad which lacks cameras). The early word on Skype with video via PC Magazine: "After testing out many other lackluster video calling applications for smartphones, we were unsure whether Skype would get it right. Fortunately, it (mostly) does. While video calls over Skype are not as good as over FaceTime, Skype 3.0 can make calls over the 3G network and to desktops, making it the best overall mobile video calling application out there."
Facebook does gooder, even betterer than Google. According to Experian Hitwise (I love you too), social networking trumps even all-mighty search, as Facebook has passed Google as the #1 visited web site on the planet. Sorry Oprah.
Still, Google's market value is estimated at 4x that of Facebook.
Early days, early days.
Verizon. What's better than the Apple iPhone? The Apple iPhone on Verizon. Google's Android team can thank AT&T for providing the main motivator for jumping off the Cupertino rocket ship. I mean, even Jon Stewart and Stephen Colbert know this stuff.
So inquiring minds must know: when will the all-might personal communicator make an appearance on the great red check-mark?
Answer: after CES. At least that's the latest scuttlebutt. According to Bloomberg Businessweek (or BB – not to be confused with Best Buy or Big Breasts), you may be able to buy your loved one an iPhone on Verizon just in time for Valentine's Day:
"Apple's introduction of an iPhone for use on Verizon's network will come sometime after the Consumer Electronics Show in Las Vegas in early January, according to a person familiar with Apple's plans who is not authorized to discuss them publicly. Estimates from industry analysts of the resulting number of defections to Verizon from AT&T range from 1 million to 6 million."
Well, there you have it. The final day in tech for 2010.
In case I haven't told you yet: You Look Marvelous. My darlings.
Photo credit: John Lloyd.