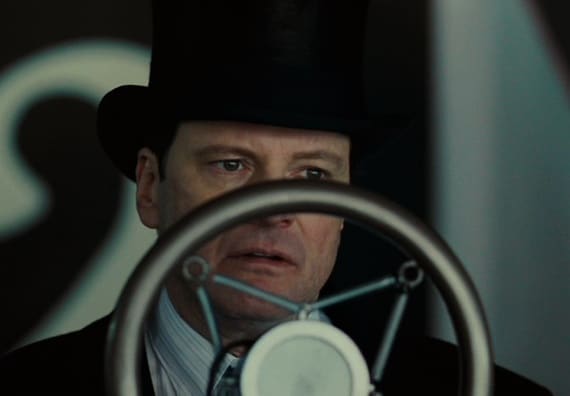 Come Oscar time look for The King's Speech to fi-fig-… figure majestically. But when Colin Firth takes the podium, will the words come out? Thankfully he needn't worry about a Nazi invasion, but perhaps maniacal stares from the likes of Jack Nicholson, and Jack Black will once again bring on the stutter.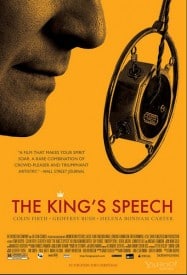 The King's Speech, which opens around the nation today, is the Stark Insider pick for best film of 2010.
And I don't think I'm alone in that selection.
Making the film festival circuit earlier this year, including stops in Toronto and later in Mill Valley, it quickly generated early buzz. For good reason, this is a sumptuous film with lots of heart. A historical piece, it tells an unusual story — the relationship between King George VI and his speech therapist — in a most unusual and uplifting manner.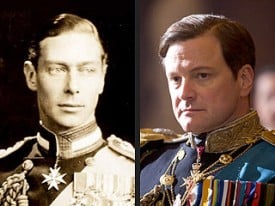 Colin Firth (who ironically, according to director Tom Hooper, "is one of the world's greatest talkers") delivers what could well be the best performance of his career.
His Bertie is instantly likable, yet Firth captures the layers of a man who's not exactly comfortable around non-Royals.
Equally strong are Geoffrey Rush in a feisty, witty performance as the King's unorthodox speech therapist, and Helena Bonham Carter as the supportive, sagacious Queen herself.
I first saw the film at a screening at Dolby Labs here in San Francisco as part of a media briefing for the 33rd Mill Valley Film Festival. I hadn't heard of it before, and wasn't expecting much. I left Dolby inspired. This is what great filmmaking was all about. It's a beautiful looking film (cinematography by Danny Cohen), with real people trying to overcome obstacles, and presented in a way that is approachable, never condescending. I told my wife Loni that we had to catch the festival screening in San Rafael. Second time around, it was equally magical.
"Contains strong language in a speech therapy context"
But just because of its Royal setting doesn't mean the F-word doesn't fly — and fly it does in possibly the best scene in the film. Turns out, King George VI does have a voice.
Director Tom Hooper spent time with Stark Insider TV when he was in town to promote the film, and you can watch the interview below… you might even learn about his favorite wine…
The King's Speech.

* Best Film of 2010 *

Starring: Colin Firth, Geoffrey Rush, Helena Bonham Carter

Directed by: Tom Hooper

Rating: 5 out 5 stars.

Stark Insider says: Overcome your personal demons, save the world (or England for starters), and, remember, the Queen is always right. +1 for the cheeky title with the brilliant double entendre.