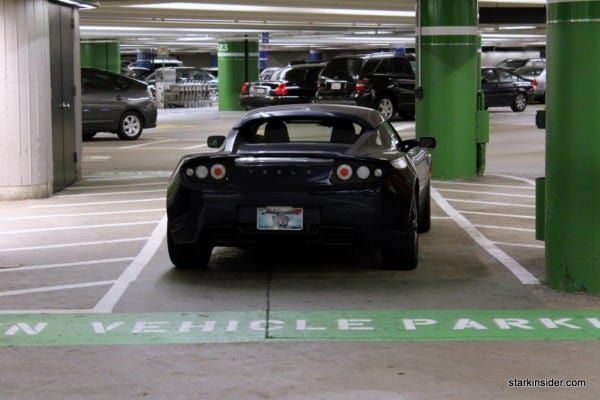 If you drive a Tesla or other green car, then SFO has VIP parking spaces available just for you. And, despite the fact that most hybrids and electrics are tinier than their gas chugging counterparts, these are nice and spacious as you can tell in these two photos I snapped at the San Francisco airport just the other day.
The Feng Shui here is particularly impressive, as this Tesla owner was clever enough to fly United, which makes for a nice green story, wholly aligned: green car, green parking spot, and green United sign-age. If flying American, the blue would just totally destroy the point of this story… then again, I'm not sure there is one.
On the downside, while the parking space is convenient (often it's tough to find spaces during prime-time business travel at SFO), I wonder how many carts and bags barrel out-of-control into said location?  If you've seen the Zombie show that is air travel, you'll know that it's not something to take lightly.
In total there are 20 plug-in electric vehicle parking stall locations, across four garages: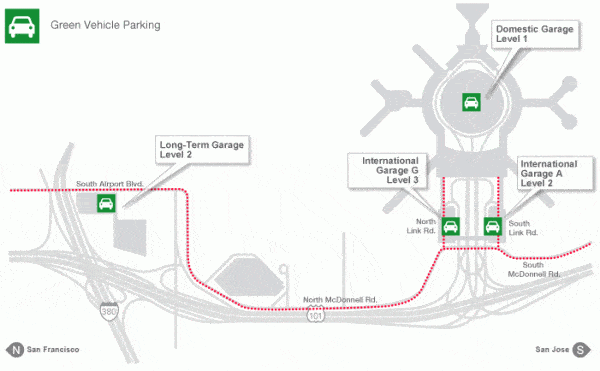 SFO now offers electric plug-in vehicle preferred parking in all of our public garages. Best of all, there's no charge for the charge! Plug-in vehicle parking stalls are available on a first come, first served basis. Each stall is located at a close-in parking location and includes a 110 V standard outlet. NOTE: You must supply your own connection cable.
Nothing better than off-setting your jet-lag with a fully charged battery-powered roadster awaiting.
Remember, though, if you own a Nissan Leaf you'll need to be within 47 miles of the airport, or we'll be waving at you as you stand at the side of the road, out of juice.
Meanwhile, Palo Alto-based Tesla Motors continues to draw concerns about its financial performance — i.e. its ability to lose money at a rapid clip. In the most recent quarter (results just  announced), the company lost $34.2 million (compared to a $4.1M loss a year earlier). Most of that is attributed to the investment required to bring its new Model S sedan into production ($57,400 – available mid-2012).