Android everywhere (Verizon, Sprint, T-Mobile), by everyone (Samsung, Motorola, HTC, others) appears to be working. According to a report issued today by Canalys, Android topped smartphone sales in Q3, capturing 44% of U.S. smartphone sales. In addition, Google's up-start mobile operating system came out on top in year-over-year growth, also at 44%. That compares to Apple at 23%, and RIM, which continues to fall, at 22%. During the quarter, Android surpassed Apple to take the number two slot in overall share.
During the quarter 80.9 million smartphones shipped. Canlysys stated in the report, "Once again this quarter, it was devices running the Android platform that proved the greatest driver of growth in the worldwide market, up 1,309% year-on-year from 1.4 million in Q3 2009 to more than 20.0 million units in Q3 2010, forming a quarter of the market share."
Devices running Microsoft's OS accounted for just 3% of worldwide smart phone shipments in Q3 2010, though with the launch of Windows Phone 7 devices, the outlook for the fourth quarter and beyond is significantly improved.
A report issued by NPD Group also shows Android performing well.
"Much of Android's quarterly share growth came at the expense of RIM, rather than Apple," said Ross Rubin, executive director of industry analysis for NPD. "The HTC EVO 4G, Motorola Droid X, and other new high-end Android devices have been gaining momentum at carriers that traditionally have been strong RIM distributors, and the recent introduction of the BlackBerry Torch has done little to stem the tide."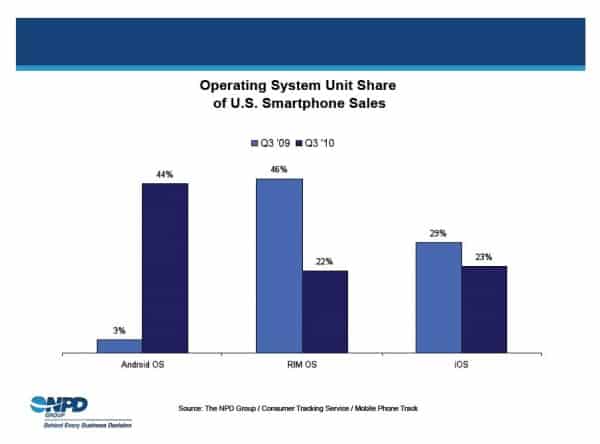 Top-selling smartphones

Based on U.S. consumer purchases of mobile phones in Q3, four of the top five handset models were smartphones, as follows:

1.    Apple iPhone 4 (smartphone)
2.    BlackBerry Curve 8500 series (smartphone)
3.    LG Cosmos (messaging phone)
4.    Motorola Droid X (smartphone)
5.    HTC EVO 4G (smartphone)