The wisdom of the crowd. Reference selling. Social recommendations. Peer review. Crowd sourcing. Whatever you call it, the idea of relying on the advice of a friend or family member — be it for a product, a service, or for as something as simple as a film pick — is nothing new. However, that same metaphor that used to work by phone, in person, and email is now rapidly expanding in influence online thanks to social networking – most notably Facebook and their "social graph" technology. Other runaway successes leveraging these principles include Groupon (social buying/discounting) and Zynga (social gaming).
Now Microsoft, in its effort to strip away share from search leader Google (66% share of search market), announced this week it will start tapping into that reservoir of social content produced everyday on Facebook and present it to users of Bing (11%). Some refer to the concept as the "continued socialization of search."
According to a blog post by Facebook CTO Bret Taylor, "Your friends have liked lots of things all over the web, and now instead of stumbling across a new movie or having to look at a friend's profile to see which restaurants they like, we're bringing everything together in one place."

Though not a surprising move, it's smart; and analysts are already applauding the announcement.
One of my favorite headlines concerning the story read, "Is Google doomed?" Ah, let me answer that: No. But is it a good strategic move by Microsoft. Yes.
By partnering with Facebook, Microsoft gets huge social scale thanks to the approximately half-billion users that use the site almost every day — that's a lot of valuable content (privacy issues notwithstanding). It's kind of like Larry Bird partnering with Lebron James. I think. You get legendary experience plus muscle and star power. But Google has done well to protect its search share which still captures about two out of every three Internet searches. Although its efforts in the social space (Google Wave, Google Buzz) have been rocky at best.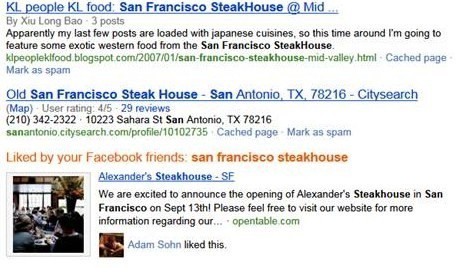 So I wonder:  If I can do all my messaging on Facebook – perhaps some day replacing Gmail if it continues to add all the right features; If I can get search results with added value thanks to the expertise of people I trust; and If the social graph becomes the next generation development platform… Then would I really need Google?
That's a lot of If's. And I'd never ever bet against Google, because they employ half of the world's most intelligent people (the other half work for Bill Mahr and John Stewart).
Is search more fun when you bring your friends?