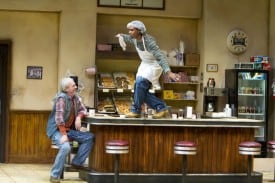 Across the San Francisco Bay Area, the stage is lighting up once again. Not to worry, it's not all scary stuff, although Dracula now playing at the Lesher Center for the Performing Arts (Center REP) will most certainly get you in a grand old blood-sucking mood!
Once again Stark Insider has you covered, with a seemingly endless list of shows now playing across stages, from San Francisco and Berkeley to Palo Alto and San Jose, and just about everywhere in between, I say.
Here are some of the excerpts from the latest reviews on shows now playing. Follow Stark Insider on Facebook and Twitter for all the latest news, stories, reviews — Theater and Arts. Food & Wine. Tech.
Have a Happy Halloween weekend and enjoy the show.
Superior Donuts, TheatreWorks (Mountain View). "This review would be incomplete without mention of newcomer Jonathan Deline. During his brief appearance on stage, Deline's impressive body armor spoke volumes that would have been impossible for a lesser actor to convey. Hopefully, we will see more of this young man in the years to come." (review)
Secret Order, San Jose Repertory Theatre. "Secret Order is an intelligent, fast-paced production. It's not perfect theater — it lacks emotional ebbs and flows, and the script reaches high, but often falls short in an effort to capture such broad political and social themes — but thankfully brings some fresh ideas and perspectives to the stage." (review)
Dial M for Murder, Hillbarn Theatre (Foster City). "As soon as Kelly Rinehart (Margot Wendice) walked on stage in her dangling earrings and diamond necklace, one could not help but appreciate the enormous work that went into this production. Just as the Hitchcock drama turns on details – the key, the phone, the stocking – the Hillbarn production offers us a window into that world." (review)
The Great Game: Afghanistan, Berkeley Repertory Theatre. "The Great Game: Afghanistan is an astonishing achievement. An epic collection of short scripts, the production is now playing at Berkeley Rep in three parts, weaving together a multi-layered history (1842-present day) of an embattled country from multiple perspectives. This is definitely not CNN (not that there's anything wrong with that). Mind you, the struggle, the heartbreak, the violence, the drugs, the terrorism are all here, but what separates the material from pop culture headline fare is its attention to the humanity — the proud people that call Afghanistan home." (review)
West Side Story, Orpheum Theatre (San Francisco). "Those first 45 seconds at the Orpheum were nothing short of breathtaking. The first scene reminded me of a particularly dark, dark, version of the Nutcracker that I saw years ago in which individual rats emerged from every nook and cranny of the stage… This updated production clearly delivers. Thanks to these changes, West Side Story may be with us for another 50+ years." (review)
Also:
Dracula, Center REP – Lesher Center for the Performing Arts (Walnut Creek).
Experience the gothic classic as you've never seen it before. Bram Stoker's magnum opus comes alive on the Lesher stage with all the chills and thrills that this sexy masterpiece is famous for. (more information)