A bio-medical thriller, Hitchcock classic and an in-depth exploration of Afghanistan are just a few of the shows hitting stages across the San Francisco Bay Area this week. It's time for another guide to local theater happenings. A roundup, or theater ticker. Whatever you call it, once again, there is…  a wave, a plethora, a bunch … of shows, with something for everyone, opening at a stage near you this week.
"Drama assumes an order. If only so that it might have — by disrupting that order — a way of surprising."
Words of wisdom, Václav Havel. Words of wisdom. What better way to start the day with one of our favorite Czech playwrights?
For those that are new here, welcome to Stark Insider. The online magazine that covers theater & arts, food and wine, travel and tech. Bringing you the passion, the insight, and… the blooper. Fans of the live stage, be sure to check out the Theater Guide which now covers over forty venues, from San Francisco to Berkeley and down to Palo Alto and San Jose, and just about everywhere in between. Even Opera (including Opera San Jose and San Francisco Opera), Symphony (San Francisco), and art galleries such as the ICA in San Jose are included. It's the little guide that could.
As usual, if we've missed anything, please write in, comment, Tweet, Facebook us and tell us what's on your mind. See you at the show!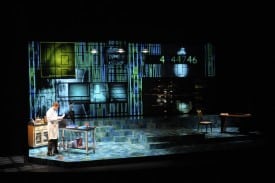 Secret Order
San Jose Repertory Theatre
Opens: Wednesday, Oct. 20
Corporate greed and the politics of science collide in this biomedical thriller.
When Dr. Shumway, a relatively obscure and naive cancer researcher, is thrust into the high stakes world of science, the notion of noble "truth-seeking" is dissected with a scalpel's precision. Shumway is in over his head when he and a young student researcher get swept up in the dangerous world of political maneuvering, corporate loyalty and scientific ethics. But it's Dr. Brock, the chief administrator at a famous research institute, who will stop at nothing in his pursuit to find a cure for cancer. Responsible science hangs in the balance in the race to be first to trial, first to publish and first to find a cure in this brilliant exploration of the business of science. Approx. Performance Run Time: 2 hours and 10 minutes, including one 20 minute intermission.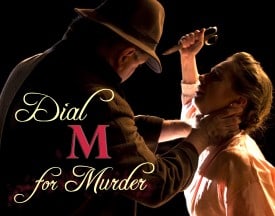 Dial M For Murder
Hillbarn Theatre
Foster City
Opens: Friday, Oct. 22
Tony Wendice has married his wife, Margot, for her money and now plans to murder her for the same reason. He arranges the perfect murder; he blackmails a scoundrel he used to know into strangling her for a fee of one thousand pounds, and arranges a brilliant alibi for himself. But who murders whom and does the real villain come to justice? Find out next season.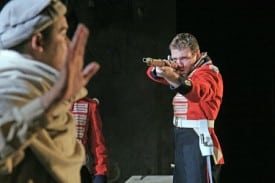 The Great Game: Afghanistan
Berkeley Repertory Theatre
Opens: Friday, Oct. 22
Whether you know it or not, you're part of The Great Game. A sweeping cycle of short scripts by 12 top playwrights, this unprecedented show explores Afghanistan over the last 150 years. Direct from London, where it debuted to rave reviews, The Great Game makes its West Coast premiere at Berkeley Rep. It's a captivating collection of stories performed by Britain's finest actors. Presented in three parts—on different days or in one impassioned marathon—The Great Game explores the eternal struggle to control Central Asia. World powers and warlords, diplomats and activists, opium farmers and ordinary people…all of them tangle with the tribes and traditions of Afghanistan. It's an emotional event that illuminates the complex culture of another land. See one part or see them all. See them in any order—or as part of an impressive marathon.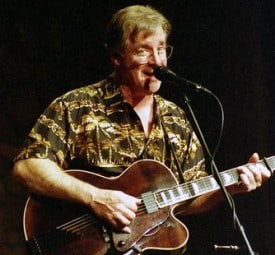 An Evening with John Sebastian
Carriage House Theatre
Friday, Oct 22nd 2010, 8 p.m.
John Sebastian's group The Lovin' Spoonful played a major role in the mid-'60s rock revolution. The Lovin' Spoonful did like nobody before or since, putting their first seven singles into the Top 10. This was unprecedented, and utterly unthinkable at the height of Beatlemania. Famous for such hits as "Do You Believe In Magic?" "You Didn't Have To Be So Nice." "Daydream." "Younger Girl." "Did You Ever Have To Make Up Your Mind?" "Summer In The City." "Rain On The Roof." "Nashville Cats." "Six O'Clock." "Darling Be Home Soon." "Younger Generation."
Sebastian was inducted into the Rock 'n Roll Hall of Fame in 2000. Whether the stage is at Carnegie Hall or a folk festival in some far-flung locale, John is still out there spreading his gospel of American roots music. In 2007, he was the subject of the PBS special "Do You Believe In Magic: The Music of John Sebastian," He has also lent his music in support of social, environmental and animal rights causes.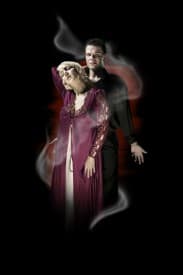 Dracula
Center REP Theater
Walnut Creek
Opens: Tuesday, October 26
Experience the gothic classic as you've never seen it before. International and Broadway veteran Eugene Brancoveanu brings the title role to life in Bram Stoker's magnum Opus.
Michael Butler directs with all the chills and thrills that this sexy masterpiece is famous for. Eugene Brancoveanu (DRACULA) Brancoveanu's robust voice and superior stagecraft have earned him critical acclaim in both North America and Europe.
Now Playing:
Superior Donuts, TheatreWorks (review)
9 Circles, Marin Theatre Company (info)
Reasons to Be Pretty, San Jose Stage Company (review)
Scapin, A.C.T. San Francisco (review)
Madama Butterfly, San Francisco Opera (info)
Joshua Bell plays Bruch's Violin Concerto No. 1, San Francisco Symphony (info)
Sunset Limited, SF Playhouse (review)
(With Clinton Stark contributing)