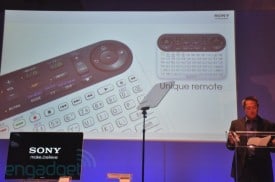 At a press conference today in New York, Sony took the wraps off its much ballyhooed Google TV-powered televisions. Dubbed Sony Internet Television it leaves me with a growing sense of deja vu; remember Microsoft WebTV? But first the facts around the announcement.
Bob Ishida, the head of Sony's worldwide home entertainment business, kicked off the presentation by saying, "We are very proud to be the pioneers of this new category by delivering the world's first internet TV experience." He first demonstrated a small keypad (remote) controller, littered with so many buttons it looks like a failed early-1990s design project. Nerds unite. It's an unfortunate design decision given the company's stellar reputation for hardware design.
Then he unveiled the Sony Internet TV itself; there will four models ranging in size from 26- to 46-inches, priced $599 to $1,399.
Sony Internet TV comes pre-installed with several apps including Netflix, YouTube, Pandora, Twitter, and Napster. Surprisingly no mention of Facebook here.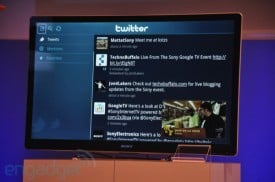 A dual view button allows you to surf the web, while watching live TV (or recorded PVR content) in a small corner, a la PIP.
Sony has begun taking pre-orders now, and units will hit Sony Style shelves this weekend, at Best Buy starting October 24.
It was underwhelming to be sure. Essentially it's a large screen PC. Not necessarily is a bad thing, but I'm not seeing this as a mainstream consumer electronics device — it's too complicated, requires too many parts and doesn't provide anything that consumers don't already have.
Most of us already own smartphones and laptops. So why not access all our social networking and Internet needs through existing devices? That way we can continue to watch full-size television in the process. And it begs the question: do we really need "smart" TVs, when all our devices that connect to it (Sony's own PS3, for example) are smart enough to do what we want?
The real question, however, is will Sony Internet TV sell?
Of course Sony is hoping for a hit in time for the holidays (so is Google with their licensed technology gambit). First, everyone thought it would be 3-D. That has been a miserable failure in the home. Now, we're back to Web TV, granted it's a lot better this time around, but I fear its prospects will be the same. Unnecessary confusion and complication resulting in negligible sales.
With Apple TV coming in at $99, the Roku Digital Video Player at $59, you have to wonder why consumers would leap out of their couches to go buy a new TV for five times the price. Yes, Sony Internet TV can do more than just watch movies, you can surf and Tweet. But, again, I'm not so sure the entire family wants to sit around a 46-inch television to experience random acts of Shaqness on Twitter.
One last point on positioning and branding. The name "Sony Internet TV with Google TV" doesn't exactly roll off the tongue, and is yet one more piece of a launch that felt somewhat less than slick.
So, the television wants to be more like a computer.
And the computer wants to be more like a television.
My money is on the latter. For me, a TV should just be dumb, and large (kind of like I feel on the couch watching it) but have a pretty face — that's plenty fine for me.
Photos courtesy Engadget.