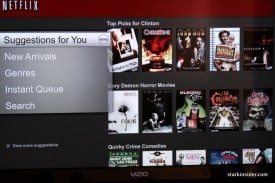 Netflix today made available its disc-less app for owners of the Sony PS3 (and Nintendo Wii). In short, it's a winner. The interface is clean, load times fast, and it does everything you'd expect without overly complicated layers of menus. Just be sure you have one of the "unlimited" plans on Netflix (which start at $10.99), otherwise you will get a "device not supported" error message.
In my hands-on test, I'd say this is a rather nice solution for families looking to get instant streaming access to a large collection of movies, television shows, cartoons and documentaries. It's everything you've come to love about Netflix, without the hassles of mailing discs (which beget the hassle of driving to your local Blockbuster in the apparent stone ages that was the 2000s).
Installation is a snap. Starting today a Netflix app icon appears under the "Video" menu. I clicked on it, and the PS3 rapidly downloaded the app, and it was installed in less then a minute.
Next, I entered my Netflix credentials. A bit of a pain using the PS3 on-screen keyboard, but presumably I only need do this one time.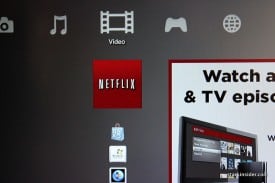 After Netflix authenticated me, I was presented a clean interface. Movie icons appear on the right, and a menu on the left. I tested the navigation and found it instantly intuitive. This is flat-out simple. Yet the designers did a nice job of making it easier to navigate hundreds of movies (faster I found than the native PS3 movie store). Choices to navigate include: Suggestions for You, New Arrivals, Genres, Instant Queue, and Search.
I navigated to Genres, then Action, and pulled up Iron Man. From there I clicked on Instant Stream, and within seconds the film was streaming to my PS3, and Mr. Stark himself was enjoying a nonchalant desert cruise in a Hummer.
Once streaming, a movie can be paused, and resumed using a conventional press of the Ps3 controller "x". In addition, thumbnails are accessible when paused to enable rapid fast forward to certain scenes. I found the performance impressive, and never felt that any of the load times were frustratingly long – the PS3 Netflix App is zippy.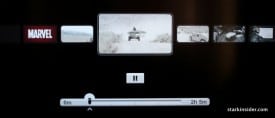 For Television episodes, such as Dexter for example, an episode guide pulls up a convenient listing of all the episodes for that particular season. Again, everything worked extremely well.
I'll continue to play with the PS3 App. One thing I couldn't figure out was how to access HD streams and Dolby Digital 5.1. In my tests I could only get SD with stereo stand, albeit quite nice. For me, this will be essential as who doesn't want the full Hollywood experience?
The Netflix PS3 app is a winner. Things are going to get interesting with Apple TV ($99), Roku ($59), and now Google TV devices entering the fray. And let's not forget the darling of streaming, Hulu.
A low risk prediction: the lifespan of Blu-Ray is going to be extremely short. Streaming is here. It works, it's convenient, and it changes the game. Netflix is on a roll, and thanks to their new App, my PS3 just became an even better media hub for our family.
Photo tour: PS3 Netflix App