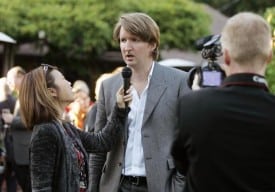 One of the first things I learned: Popchips make for surprisingly good appetizers — and you thought the Costco samples were addictive! This and a whole lot more from Mill Valley Film Festival 33 which opened Thursday night.
Scene…
I admit to being surprised at the star power this festival draws.
Consider it the result of an impressive track record (now in its 33rd year), quality content (a vigorous screening and programming process led by Zoe Elton) and highly desirable mountainous Pacific ocean location (just ask Sharon Stone whose Basic Instinct beach house is a "stone's" throw away).
And heard…
Hollywood star Sam Rockwell called the tiny red carpet that lined the cozy press room at the Outdoor Club "the smallest of all time." Then again, it's partially the reason why the pre-screening reception which included plenty of whales (ask De Niro) is so enjoyable; it's elegant, sophisticated, yet unpretentious. To me, it's simply an irresistible combination.
That we, a new media start-up, can mingle with the stars and, as-they-say, titans of industry reminds me of a line in a Jack London novel I bought at a book fair as boy. You may have heard of it. From Call of the Wild: "He was sounding the deeps of his nature, and of the parts of his nature that were deeper than he, going back into the womb of Time."
What, by the way, is with the scarf?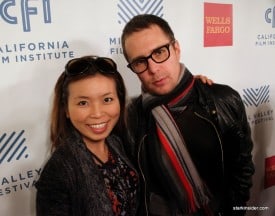 I'm not saying it's not cool, it is (others in recent memory that have adopted Christmas card chic in the Bay Area for interviews include stage actors James Carpenter and Julia Brothers). Sam Rockwell wore one on this opening night, and together with a leather bomber and jeans, looked Gap-cool (even if their new logo isn't). And the San Francisco-style thick frames: props. If only I could pull this off without looking like Buddy Holly with a receding hairline.
When Loni called Sam Rockwell "quirky" – referencing the quirky characters he often plays, his reaction was priceless: "Quirky?!"
You can blame me for that, and an utter lack of command of the English language. I had assembled some prep notes for Loni before pushing her into battle; quick sound bites, and emergency questions in case she needed some oxygen. You know, stuff like Sam Rockwell: Charlie's Angels (stellar role in fluffy film), The Green Mile (with Tom Hanks!), from the Bay Area (home field advantage). Tom Hooper: Oxford educated (no Loni Anderson jokes please…); break through with The King's Speech?
Of Gadgets and Directors
One thing that continues to draw attention, especially with film directors, is the Canon T2i camera I use to shoot our Stark Insider videos.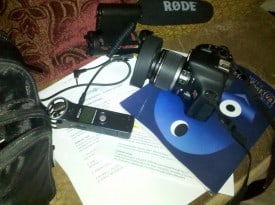 Tom Hooper immediately wanted to know, "Does that shoot video?" (of course!). Then, after some bar-side conversation, revealed that he used the European equivalent (the EOS 550D) to shoot a scene (or at least a shot, maybe not an entire scene, I'm not really sure) for The King's Speech. Before we started the interview with Loni, he was interested in our audio set-up as well. For the first time, I shot with dual audio and synced using Premiere Pro. But, details. Details! I'm getting off-track here.
Opening Night Films: The King's Speech and Conviction
Both MVFF openers were perfect choices to kick off the 10-day festival. The King's Speech is a period piece set against the backdrop of war with a very human message. And Conviction is the story of overcoming the odds to invoke justice. Love, indeed, is transcendental.
In Conviction, Hilary Swank reminds me of Julia Roberts in Erin Brockovich: determined, strong-willed, and (thankfully) stubborn. We've seen this type of story before–taking on the system–but the acting pushes it over the top. Sam Rockwell is combo Sean Penn and Al Pacino, waiting in prison, and aging with hair slicked back, for his sister to work the legal system. It's a good film. But these elements are perhaps quite familiar, and we certainly know where it's headed. Still, very solid, and there were many teary eyes as the credits rolled.
My nod, though, goes to The King's Speech for battle of the openers, but just by a hair.
Who knew a film about King George VI (Colin Firth) and his speech therapist (Geoffrey Rush) could be so outright entertaining. Human foibles, it turns out, are not just the provenance of us commoners. Superb performances, gorgeous cinematography, and, yes, also wonderful direction courtesy of that tall Brit, Mr. Tom Hooper, whisper… Oscar.
Once the films are theatrically available in the SF Bay Area, we can release full reviews.
More to come as our on location Mill Valley Film Festival 33 coverage continues. Tomorrow, more screenings, and later a tribute for Edward Norton (Stone).