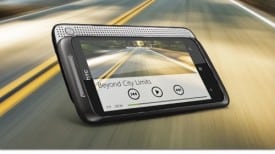 HTC has released a series of videos showing their Windows Phone 7 smartphones running Microsoft's bran new mobile operating system. All include the ubiquitous 1GHz Snapdragon CPU, 512MB of RAM, 576MB of ROM and a 5-megapixel camera with LED flash and 720p recording. The lineup includes: the HTC 7 Pro, HTC 7 Surround, HTC HD7, and HTC 7 Mozart. Seven being the operative number of the day.
For those that must have a physical keyboard — the Minority Report free zone — then the HTC 7 Pro is for you. Others use virtual keyboards and also come with Swype. The long awaited Windows Phone 7 begins shipping next month.
Have no fear restless viewers, all of these videos are less than 30 seconds, and granted aren't exactly epic Phonedog-like feature exposes. Still, this is a glimpse of what's to come. With today's announcement of the new Pam Pre 2 (with WebOS 2), the smartphone market is a very crowded place to be. I wouldn't be surprised if there is a shakeout soon… can the market really sustain so many models, from so many vendors? Perhaps – the laptop market is also a crowded place, and given smartphones are becoming more and more powerful maybe it's not too much of a stretch to expect them to supplant some of that space as well.
Based on YouTube views, the HTC HD7 is the most popular of the upcoming HTC phones.
Other manufactures that have announced upcoming smartphones running Windows Phone 7 include Dell (Venue Pro), Samsung (Focus, Omnia), and LG (Quantum, Optimus).
According to most reports, Microsoft's market share of the smartphone market is currently about 4%.