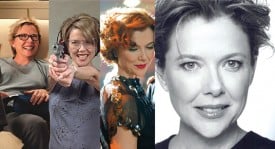 Film legend Annette Bening, who early in her career appeared on stage at the American Conservatory Theater (A.C.T.) in San Francisco, will be in town for a tribute organized by the Mill Valley Film Festival. The event is scheduled for Thursday, October 14 at the Rafael Film Center and includes a red carpet arrival, film clips, and on stage conversation followed by an award presentation by Mark Fishkin, MVFF Founder-Director and Zoe Elton, director of programming.
With her sultry voice and distinctive silhouette, Annette Bening announced her arrival in Hollywood with a variety of inspired performances in films like Valmont, The Grifters and Bugsy. As a leading lady, she's navigated a fickle industry with unusual aplomb, choosing roles in studio films and indies alike that showcase her dramatic chops and genuine gift for comedy. Always balancing that innate glamour with a relatable, contemporary sensibility, it's no wonder that Bening has carved a Hollywood niche all her own.
Her latest film, The Kids Are Alright, is receiving critical praise. Bening plays a gay mother whose  two children conceived by artificial insemination bring their birth father into their family life.
Annette Bening has been nominated for three Oscar awards, and is regarded as one of America's preeminent actresses.
The Mill Valley Film Festival is unique not only in its rich array of vibrant programming, but also its one of the few festivals in the world where you can screen a movie like Stone starring Edward Norton, followed by small independent films such as Opal, a beautiful local film shot for only $200,000, Lesson Plan, a documentary featuring Palo Alto's Cubberly High, and Food Stamped, an Oakland filmmakers' quest to eat healthy for $1 per meal.
"We're bringing the world to the San Francisco Bay Area," said Zoe Elton, director of programming for the festival now in its 33rd year. "But we also bring the Bay Area to the world."
The tribute is one of several high profile events that has drawn Hollywood A-listers to the increasingly influential 10-day film festival. Other stars and directors that have made appearances along with their film premieres include Sam Rockwell (Conviction), Edward Norton (Stone), Alejandro González Iñárritu (Biutiful), Tom Hooper (The King's Speech), and John Curran (Stone). James Franco will be featured at the close of the festival on Sunday, October 17, along with the screening of thriller The Debt, starring Jessica Chastain, Sam Worthington and Helen Mirren.
Tribute to Annette Bening

Thursday, October 14, 7:00 pm

Mill Valley Film Festival
Christopher B. Smith Rafael Film Center
Reception to follow at Frantoio Ristorante & Olive Oil Co.

A tribute program honoring the brilliant career of Annette Bening.

Film clips
On stage conversation
Presentation of the MVFF award